Air Vanuatu Opens New Headquarters
December 7, 2021 11:02 pm | Posted in Business News | Share now TwitterFacebook
By Charles Hakwa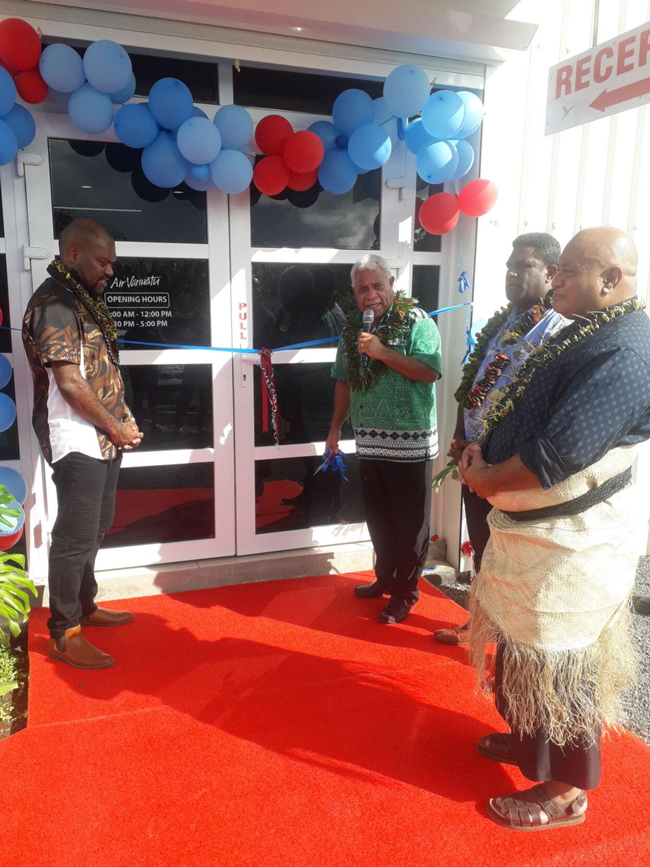 Vanuatu's national carrier, Air Vanuatu, officially opened its new headquarters at Blandinere, near the airport yesterday.
At 3:40pm, Prime Minister Bob Loughman, on behalf of the government, shareholders, stakeholders, Air Vanuatu management, Air Vanuatu staff and the people of Vanuatu opened the new headquarters by cutting the ribbon.
He said now that the headquarters are open, everything is now in the hands of Minister Johnny Koanapo and Minister Jay Ngwele, whose ministries are shareholders of the airline as well as the Prime Minister's Office and the office will service the people of Vanuatu.
Air Vanuatu's story is different
Air Vanuatu's Chief Executive Officer (CEO), Atu Finau said, the land which the headquarters sits on was purchased back in 2012, however construction began in August last year. He says it is a privilege to open this office in just over 15 months. Something he feels is an accomplishment in itself.
Finau congratulated Atom Limited for their dedication which resulted in the completion of the building. He also acknowledged Derrick Boudier the architect, he also acknowledged engineers, builders and suppliers who were involved in the construction.
Finau says the total cost of construction totaled at VT60 million. He confirms it was paid for totally by revenue generated by the airline.
Air Vanuatu was paying VT2 million a month when they were renting in town. Finau says now they will be able to save a lot of money and in under 3 years this new building itself will pay back its own costs.
Finau says since 2012 the land was idle for almost 10 years however, today the total value of the land and building sits at VT79 million.
Finau explained that today we live in a monumental turning point as COVID-19 requires all airlines to change the way businesses operate.
Finau said many airlines struggle to adapt; however, Air Vanuatu tells a different story. He explains that through dynamic staff and support from the government which owns the airline, they can keep their planes flying to keep customers connected.
Finau thanked staff for their enthusiasm, and support, he also acknowledges the sacrifices made by staff present and past as it is through those sacrifices that the new headquarters are now standing.
Finau said this new headquarters will enhance communication and productivity.
Despite the battle scars from COVID-19, Finau says the airline has formed new relations with Solomon Islands, Tonga, Samoa, Tuvalu, and Kiribati.
Apart from expanding networks, Finau said they are building a strong local workforce. He said he is privileged to work with a team which uses knowledge for the advancement of the airline.
Finau said it is important to develop strategic plans for long term objectives in contrast to band aid solutions which should differentiate Air Vanuatu from their peers. That he believes will make them become international leaders in passenger and cargo transport.
With that being said, Finau believes they must identify unserved or underserved routes, find niche markets and create markets of their own. This he feels is in preparation for the demand on key regional and international routes.
Finau said they are committed to flying safe and modern aircrafts to make them be the airline of preference, he says they have made arrangements for two brand new twin otters and a Boeing 737-800 which should join the fleet by the first or second quarter of next year.
Finau also mentioned new state of the art check in and reservation technology to satisfy customers and plans are also in place for a frequent flyer program for people who travel regularly.
Finau also acknowledged the diplomatic representatives of Australia, New Zealand, France and China, who enabled the airline to navigate through these difficult times.
Prime Minister believes in growth once borders open
Prime Minister Bob Loughman said he believes Air Vanuatu will grow and improve once the borders are open.
He said the government made sure the airline operated locally and not be grounded like airlines around the world.
Prime Minister Loughman mentioned a Bible story about a farmer who sowed seeds but planted some really deep into the ground. He said the deeply planted seeds grew very well. He believes this story represents preparations in bad times for good times coming.
PM Loughman related this to today's pandemic and says good times are coming and this is the beginning. He also says when good times will come it will help us to also prepare and be ready in case bad times come again in future.
He thanked CEO Finau for his persistence and for his firm stand as he says doors would not have opened if no one stood firm.
The PM believes this new headquarters is a solid foundation and with that, we should be 2 steps ahead. He also encourages the airline to look at servicing domestic destinations less served.
He also thanked Air Vanuatu for dealing well with their creditors as he says these creditors could have grounded the airline. He also thanks financiers for being easy on the airline during these hard times.
The PM said everyone keeps asking him when borders will be open but he says it is up to us the people to encourage one another to get vaccinated.
He urged everyone to get vaccinated. He said people who think they are medical experts and those who claim they can kill covid with custom, need to put all that and get vaccinated for the common good.