300 Coconut Bags says 'thankyou Bred Bank'
December 11, 2021 1:30 am | Posted in Business News | Share now TwitterFacebook
By Jean Lini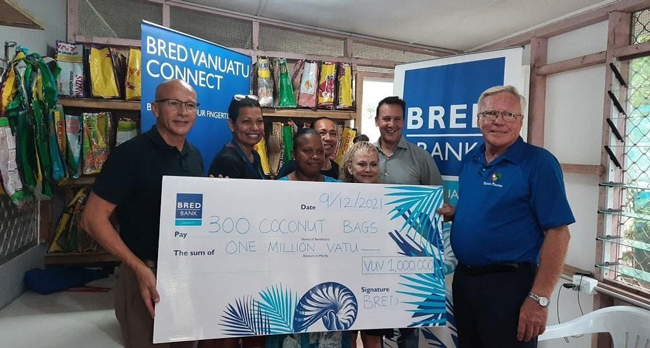 BRED Bank handed over a cheque of VT1M to support the 300 Coconut Bags Project goals which align with helping the disabled and recycling waster plastic.
Pikinini Playtime Business Manager, Tony Batten, said that the financial assistance will help the 300 Coconut Bags Project in addressing disability challenges, within the employment sector in Vanuatu.
Initially birthed by the V-Lab and supported financially through the South Pacific Community (SPC), the project is now managed by Pikinini Play Time.
Tony stated that the 300 coconut bags is an opportunity for students that are disable to help them develop skills and earn an income when their leave school.
He added that while studying, Pikinini play time will also provide vocational courses for year 10-12 to learn a thing about business management and marketing skills.
"It will be a great way to encourage recycling and care for the environment. Students also collect waste plastic and exchange it for cash that which will go towards their savings account for their future educational expenses. Each waste plastics collected are paid at 20vt each," he said.
The project is also working with the Vanuatu Institute of Technology to develop a machine that can combine several layers of plastics wrappers into a usable sheet.
"This machine will give a wide range of product options. This generous support of BRED Bank ensures 300 coconut bags has an exciting future," he said.
300 Coconut Bag started as a recycling project, sponsored by the SPC and the Canadian Government to find solutions to the growing issue of unemployment.
The project trains unemployed women and people with disability to sew and to produce innovative products using recycled local materials and plastics.
"They normally sew two different kinds of bags, inline with their slogan, Recycle, Reduce and Reuse. The other bag is made of pandanus, which is also waterproof. The bags are worth VT500 each. Price depends on size as well.
Mr. Batten expressed his appreciation for BRED Bank's confidence towards them. He added that the project has many challenges but they are overcoming it one step at a time.