1.3% members' interest for 2020
May 5, 2022 4:23 am | Posted in Business News | Share now TwitterFacebook
By Anita Roberts.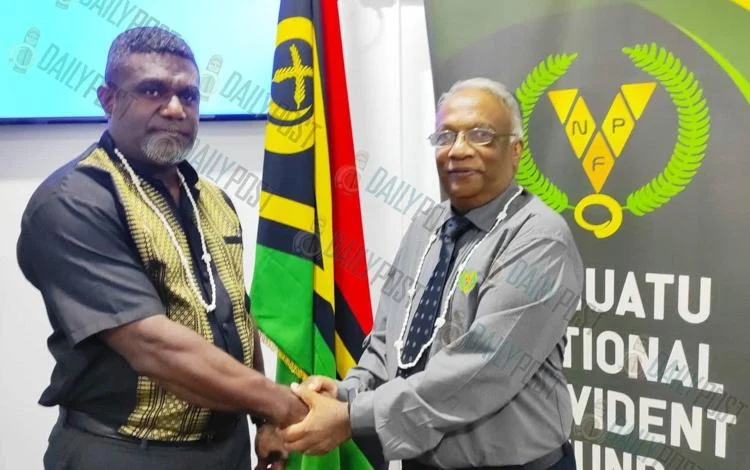 The Vanuatu National Provident Fund (VNPF) will be paying an interest of 1.3% for the 2020 financial year, with VT280,750,724 to be credited to its members.
This declaration by the Minister of Finance, Johnny Koanapo, was made yesterday following the completion of audit on the 2020 financial year.
The funds will be transferred into members' accounts soon.
The minister responsible for VNPF, Koanapo said the members' interest for 2021 will be declared later this year once the audit statement is completed.
VNPF as a statutory body is subject to audits annually.
The 2020 interest rate was supposed to be declared already, but it was delayed because auditors from the Fiji KPMG auditing firm could not travel to Vanuatu to do audits due to COVID-19 travel restrictions.
VNPF started declaring annual interests for members in 2017 with a 2% rate. The total amount credited to members' accounts then was VT333, 218, 155.
The interest rate for 2018 was 1% with around VT200 million credited to members' savings. VNPF declared an interest of 1.2% interest for the 2019 financial year with VT254,420,000 paid to all members.
In his statement yesterday, Minister Koanapo said VNPF continues to grow bigger and stronger over the past years.
"In 2020, VNPF paid a total of VT1.6 billion to members as COVID-19 hardship benefits. VNPF also made a historical landmark, by introducing withdrawals of members' benefits at the age of 47. Withdrawals amounted to VT180 million.
"Despite challenges of COVID-19 and huge spendings in 2020, VNPF made a net profit of VT288,875,000 compared to VT808,222,000 in 2019.This is a decline of almost 64%, highly attributed to COVID-19.
"Despite the decline in net profit, the total assets for the fund increased by 6.3%, that's from VT22.5 billion in 2019 to VT23.9 billion in 2020.
"Our total members funds in the members' accounts also shows an increase of 4.8% in 2020, from VT21.3 billion to VT22.4 billion," he conveyed.
Minister Koanapo stressed that VNPF is also affected negatively by COVID-19 experiencing a huge reduction in employers' contribution payments.
He acknowledged the VNPF Board, General Manager (GM) Parmod Achary and the management for working hard to steer the Fund to achieving great results.
Yesterday's declaration of the 2020 interest was done in the presence of officers from the Ministry of Finance and VNPF at the new VNPF Office, located at the VNPF Plaza.