Vehicle Care Vanuatu
October 29, 2020 3:52 am | Posted in Business Profiles | Share now TwitterFacebook
Employing the Unemployed
In the past recent years, youth unemployment has become one of the most intensifying challenges encountered within our society.
The intrinsic reality is that surprisingly, the issue still remains inconclusive, although it is a global problem, youth unemployment is the annulling effect from a bad equation of politics. If not dealt with quickly, it will spread like wildfire.
In troubled times, it is expected for the Government to shift its focus and deal with other demanding and uncompromising issues on the rise.
Nonetheless, let us not forget that our unemployed youths have and still are struggling in our communities, though people may think they have lost their hopes and gave in to a life of desolation and toxic behaviours, they are unnoticeably calling for help, each day.
There are few good people in this world, people who see the good in a bad situation and instead of fleeing from it, they intend to make the best from it and find possible ways to fix it.
Amando Leingkone is one these people, an honest man who has the heart to transform and to give second chances to those in need.
A young entrepreneur, the 32-year-old from Ambrym has recently started his business – the Vehicle Care Vanuatu, a car wash and automobile garage with the slogan: "We make the most of your investments.
"His business, which has initially opened this year on August 1st has presently employed 6 working staffs.
Amando claimed he is not a business man, he had completed his education at Montmartre school and has spent a year at the University of the South Pacific Emalus campus.
In fact, in 2006 he was a Video Technician at the Vanuatu Broadcasting Television Corporation (VBTC)."I had spent 11 years working in the media company before I left and joined a private media production: Island Sun Pictures," he said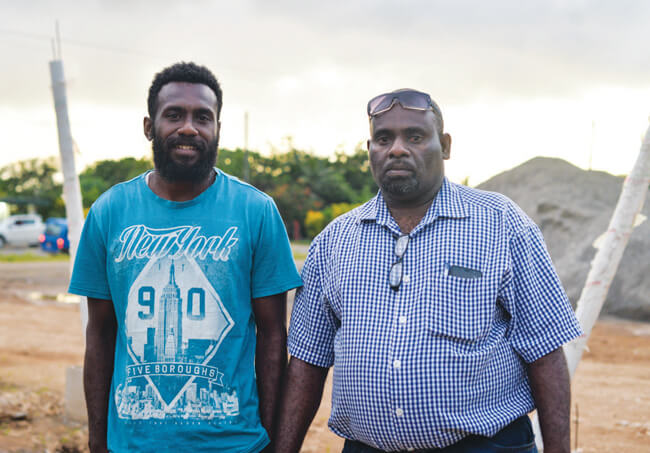 "The idea was there, executed by the unemployed youths of the district.
"We were trying to find ways to create something that can sustain us, especially during this pandemic.
"We finally chose the idea of building a car wash, it seemed more practical and can be well-managed.
"Amando said in 2018, "we've talked with politicians and urged them to occupy and secure a space for our car wash."
"We had high hopes but a few months went past and we received and heard nothing.
"We never gave up hope, we created a business plan and presented it to our communities.
"But on the road to success, there are always barriers that needs to be tackled before one can reach one's goals. And in every society, there are community differences.
"The most difficult and challenging moment of our journey was even our people didn't support us, they doubted our plans and claimed it was only an excuse to gain money for drugs.
"We even turned to the church and approached our church leaders, but even the church didn't believe us."
But Despite the prejudiced comments received, Amando did not give up, he requested a space at No2 Lagoon area to rent and paid monthly rents of Vt25,000 with the intentions to employ the unemployed.
The land owner agreed, giving him 3-months to prove himself with the growth of his business and if in time, the business thrives successfully, he can negotiate a more proper and suitable land rent with the owner.
Amando had invested with his own savings, with no support from his community, his church and even the Government.
But he need to find a way to earn money to sustain his business, since it was still on the process of developing.
A friend had suggested the idea to check out V-LAB and YumiWork which are distinctive structures with collaborated relations.
Built by a group of expats and Ni-Vans, the V-LAB (Vanuatu Laboratory) is a charitable association aimed to influence the development of a conducive environment while offering practical accompaniment solutions to young entrepreneurs.
V-LAB has partnered with YumiWork – the first co-working space located in the heart of Port Vila which offers premium facilities, specifically designed to ensure access to quality services and optimal interactions.
Last year, V-LAB President Marc-Antoine Morel and YumiWork Director Marc Gerad has worked together to formulate the idea of a Business Incubator, one of the first in Vanuatu.
The Business Incubator was launched on November 21st 2019.
Both directors had decided to create a working space for two significant reasons:
1. To promote and facilitate entrepreneurs
2. To accompany young entrepreneurs in the development of their business.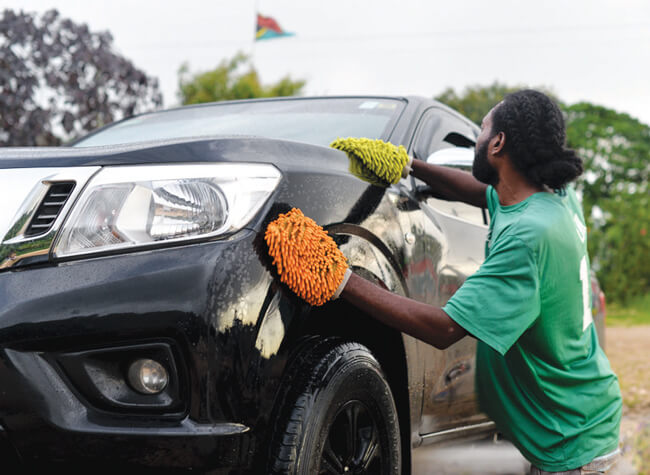 The perfect opportunity was finally in his grasp, Amando did not hesitate and went directly to present his business plan, VLAB and YumiWork grew fond of his ideas and agreed to train him to become a business entrepreneur.
He later became employed in the Business Incubator program in September 23rd and joined the other9 incubees for the 4-months training program.
If applicable, they would extend his contract to continue his entrepreneurship trainings.
"I was unaware that places like V-LABand YumiWork exist, people need to know about them and I for once, was very fortunate for the given opportunity to become an incubee.
"His coaches are David Joel, the Directorof Namba 1 Security Services Limited and a teaching instructor at the VanuatuChamber of Commerce and Industry and Chris Elphick, a Breadfruit Consultant.
Amando attended trainings every Wednesday at VLAB/YumiWork space. "The only thing needed was to improve and build my budgeting /finance management skills.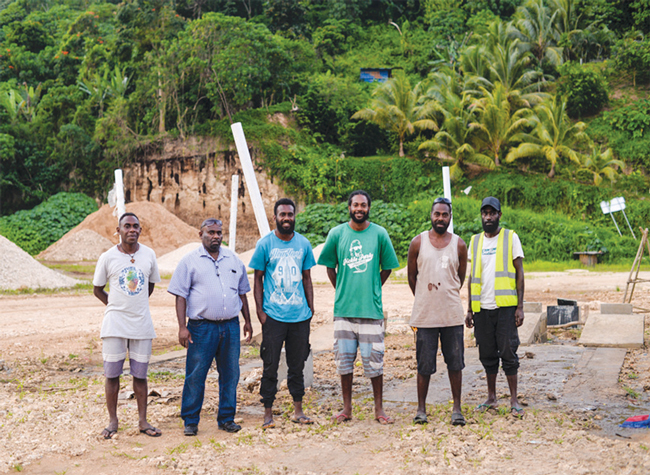 "Vehicle Care Vanuatu has received very excellent feedbacks on customer service.
The services offered are:
1-Interior cleaning (cabin):
Indoor detailing
Removing dirt
-Vacuum
Stain removals
Polish- Clean windows
Air freshening
2- Exterior Cleaning
Water splash
Hand wash
Polish tyres- Check break meter
3. Ramp Cleaning-
Remove dust from under vehicle-
Wax-
Polish
4. Safety checks (Free of Charge)
5. Air condition a car for auction.
The Additional Services and Promotionsare:
The business would give vehicles star stickers.
A Big star for large services made to the vehicle. A Small star for minor services, the promotion deal is with 5 small stars, you get a free service next time.
"One thing's unique about our services is, the cost, customers pay Vt1000 per vehicle, doesn't matter what size your vehicle is, the price applies to all."
"During this COVID-19 pandemic has affected our economy greatly, our tourism sector is destabilised and a high number of people were put of work. >
"With closed borders and unemployment on the rise, we must adapt to the situation.
"The car wash is a way to give back to the people and keep them on their feet ,especially for unemployed youths."
Amando has plenty of plans to upgrade his business and in time, to expand to business providers and care for their vehicles.
He is appealing to other car washing services to improve and upgrade their services.
Encouragements:
"Never think down of yourself, set goals and always be ready to step out of your comfort zone and do something that will sustain you.
"Plenty of youths see RSE schemes as the only way of gaining income. No, you need to start small, it may be tiring or not enough but it will get you somewhere. Never be afraid to take that leap of faith