Jufelie's frozen food
March 5, 2022 10:37 pm | Posted in Business Profiles | Share now TwitterFacebook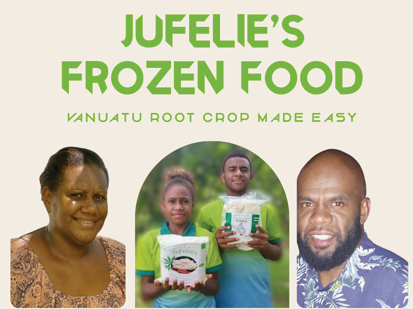 The first cohorts of Bisnis Nakamal have joined V-Lab for the "Market Haos" learning cycle.
This learning cycle is a 12 weeks cycle during which the participants will receive both training and coaching in order to support them to grow their business.

The new cohort are a mix of male and female entrepreneurs who all have a business already running but want to take their business to the next level. Each have joined for a different reason.
V-LAB is happy to present in this month's V-Lab business profile, one of these entrepreneurs.
Lester Lulu and his wife are the owners of Jufelie's frozen food. The family ran business had started up in 2019 when the family had shipped a large amount of taro from Pentecost for an event. However, the event did not end up happening and the family had to find a way to sell the taro that they had in excessive amounts.

" The idea of frozen food came to us as a solution to that. We then peeled and washed the root crops and packaged them with a nice label and we sold it. At that time we only sold it friends and families" says Mr. Lulu.

At that time the packaging of this root crop had just been a solution to a problem. This led to the family seeing potential in the market and in 2020, Mr. Lulu registered the business and had it certified.
The frozen food business has expanded into freezing taro, manioc, water taro already conveniently peeled and ready for the Pot. It has also taken the initiative to deliver more ease as Jufelie's now sells grated manioc packed and frozen to make meals so much easier. The business has a Facebook page, where Jufelie's frozen food can be reached for orders.

As a business dealing with fresh produce, Lester shares that the biggest hurdle for Jufelie's is keeping the food fresh on the long trips it takes to reach Port Vila and before it gets cleaned and packaged.

"We get fresh produce from Pentecost where we work with a local farmer. The produce has to come all the way by ship. We used to get 100Kilograms a week of root crop but now that has shifted to 300Kilograms at a time. We are fighting against time to preserve the freshness of the root crops. It takes about 2 or 3 days to peel, clean, and package the goods".

Despite the hurdle, Mr. Lulu states that now the business is working in the domestic market but the family has their eyes on greater things as they plan to enter the international market once there is an opening for them.

" In preparation for this, we have over 5,000 stems of taro we have in the ground right now"
In 2021 Mr. Lulu had enrolled himself and his wife in the Market Haos level of the Bisnis Nakamal. He had heard from a colleague that had suggested the program after he had taken part in the Bisnis Nakamal himself.

" I think this program offered by V-Lab is a great opportunity as it offers entrepreneurs and those starting off experienced learning as the people running the workshops are experienced businessmen and women who are aware of how to run a business and you are learning about how to run a business in a practical sense. V-Lab doesn't just teach you and leave you, they stay in touch and track your progress. Checking in. They offer support all through" says Lester.

"This program has taught me to be mindful of things that may cause your business to collapse. It has also been useful in learning more about the management side of the business. For me and my wife, the program has strengthened us as business partners by putting us at the same level of understanding when it comes to our business" says Lester.

Now that the two have completed the program, Lester and the Jufelie's frozen food family are looking forward to expansions in the business as he talks about building a packing house, an at-home office and possibly hiring more people as the business is growing.

Lester advises everyone that little ideas can easily become big ideas that work if you look in the right places.

" In Vanuatu we can talk about an idea and just drop it when we see the complications of it. But with V-Lab under the seed Haos program, the coaches will teach you all the business paths you can take with your idea and how to make it work. So choose the right places to go with your ideas and do not be afraid to ask for help" he says.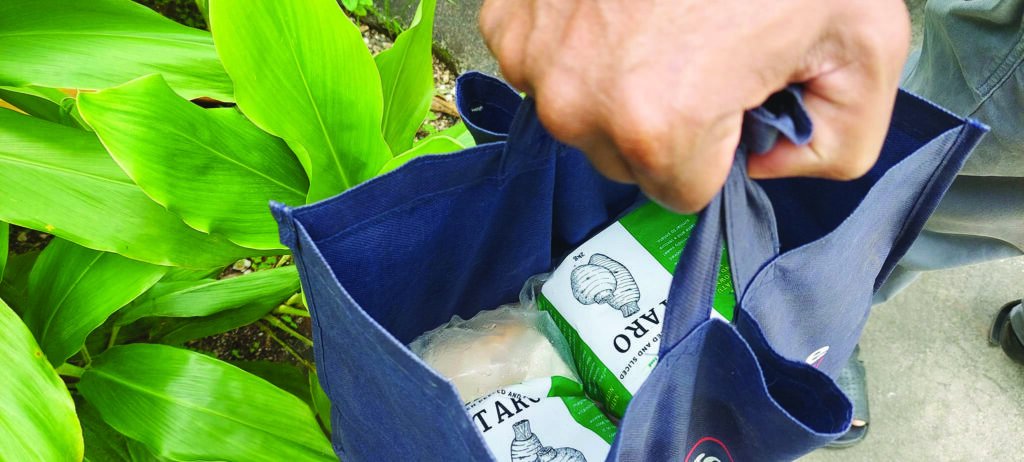 The Bisnis Nakamal is being supported by Wanfunteng Bank. Which generously subsidize the costs of the training so that anyone can participate. With this subsidy, the "market Haos" 12 weeks learning cycle only costs 35,0000Vt to its participants.

The other two learning cycles will soon start. These are:

The Seed Haos – this is a 8 weeks learning cycle for anyone who feels like starting a business but who do not have yet the right idea. During these 8 weeks, participants will be supported to test their entrepreneurial capacities and to identify the right business idea.