HEADING FOR THE EXITS
November 26, 2020 3:05 pm | Posted in Opinions | Share now TwitterFacebook
The government's private sectors policies are making it hard for business to survive
EDITORIAL OPINION
VANUATU 2030, our national strategic plan, states:
"Businesses also need reliable infrastructure, together with an enabling policy and regulatory environment that is conducive to invest, start-up a business, trade, innovate and respond to emerging opportunities. Ni-Vanuatu entrepreneurs need access to credit and financial services at affordable rates."
Since 2016, policy hasn't supported 'enabling policies' for business owners and skilled professionals. It's moved away.
Disaster make it tough for the private sector, but our government has made it tougher.
In the last five years, more than 90 new laws or amendments have been made in Parliament to legislation directly affecting businesses. Many have improved the economic landscape, protecting us from money-laundering. Some have simplified tax collection. Some have raised taxes, wages and benefits.
Even when they benefit us, every one of them has created new costs for business owners.
Some of these laws make it hard to do business at all.
The work permits legislation passed in 2018 was such a problem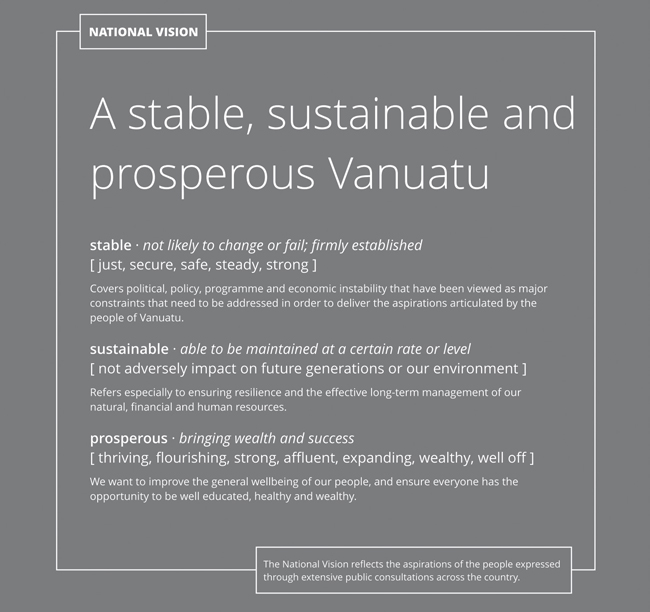 that the Commissioner of Labour promised to ignore the four-year limit the law required. Despite a promise to review it, the law remains unchanged.
Fees and forms have piled up.
The Value Added Tax was increased from 12.5% to 15%.
Permit fees have skyrocketed. Employing a single skilled worker can cost in the millions.
The Customary Land Management Act was a stake in the heart of commercial development.
Now, the government is proposing to place nearly all skilled professional roles on the reserved list. This proposal persists even though the Public Service Commission recently reported it's facing a shortage of thousands of skilled workers.
Many of the proposed reserved roles require certification or qualification not available in Vanuatu. Reserving skilled occupations won't create jobs for Ni Vanuatu. It will take away the people needed to train them. There will be fewer opportunities for everyone.
CEOs of flagship companies report long-standing issues with Immigration and Labour officials. One described his relationship with Labour as 'toxic'. Others have raised questions about inconsistent and unfair rulings by government officials, but they won't make specific allegations because they fear further retaliation.
More and more business owners feel they need to remain in the good graces, not of the government, but of individual ministers and public officials.
Directors, DGs and other public servants face an uncertain future too. In the last two years, nearly two dozen cases have been tried for allegations of improper public administration. The fact that most of them failed is due more to poor legal advice than to the merits of the cases.
Work has started on supporting Ni Vanuatu entrepreneurs in agri-business. But little actual progress has been made. This is mostly due to COVID-19, but government's decision to slow cargo shipments and postal services to a near-stop, and its failure help businesses that rely on import/export haven't helped.
Tourism, of course, is dead for now, and if there is a clear vision or plan about how the nation will emerge, no one in the public sector has seen it yet.
MPs, Parliamentary officers and Municipal representatives have all got pay raises, though.
Irrational emergency regulations are not helping. Port Vila municipality threatened businesses with closure and fines for measures that were not vetted or requested by Public Health. Travel restrictions and border closures have likewise been subject to evidence-free decisions.
Over VT 9 billion has been spent by the government to cope with COVID-19 and TC Harold. ESP grants total over VT 726 million. VT 3 billion has been put aside for subsidised credit for individuals and businesses.
Without that, our economy would be dead already.
But this isn't just a COVID crisis.
Government inaction and disinterest in the private sector has been degrading the economy for years. A decade of inaction and indecision closed Port Vila airport in 2016, costing us billions and adding to the impact of TC Pam. The minimum wage has increased twice since 2016, rising nearly 30% overall.
That's good for people who have jobs, but it means fewer people get hired.
Many rising stars in Parliament have a long history of public service. Their expertise in public administration was on show during the most recent parliamentary session. Most observers commended members on both sides for their informed and detailed budget debate. This was a refreshing first.
But not many MPs have a private sector background, and fewer still are in government.
The lack of understanding of how markets work was put on display with the recent decision to increase severance from one month to two annually—but only for retirees. Instead of setting up a viable retirement pension plan, the government has forced companies to put millions aside on the off chance that their staff might stay.
But what's to stop a company from saving the money and sacking all their older workers instead?
Between a lack of understanding of basic free market principals, and a lack of consultation with stakeholders, public policy makers in the last two governments have driven businesses to the brink.
Pam, Harold and COVID have been brutally tough. The government should be helping, not hampering the private sector.
If they don't, even key players in this economy could be heading to the exits in 2021. Not because they want to, but because they have no choice.