Wilco and Vila Distribution to Stabilize Cement Price
February 15, 2022 11:28 pm | Posted in Business News | Share now TwitterFacebook
By Mavuku Tokona.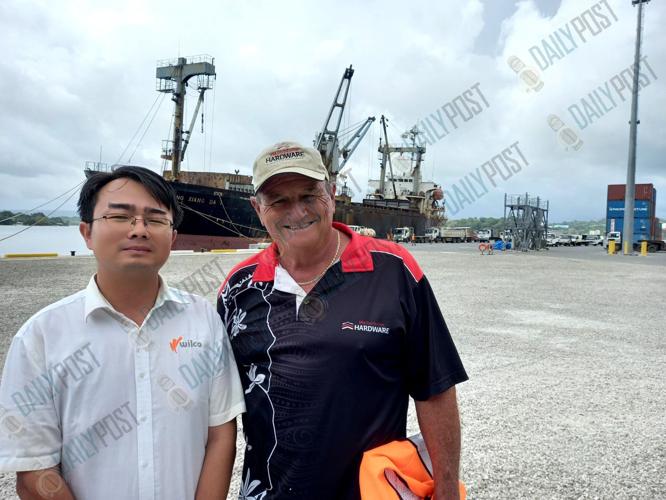 Vila Distribution and Wilco Hardware have chartered a general cargo ship named Ming Xiang Da 1 to transport 6500 tons of cement from Vietnam to Vanuatu.
The Panama-flagged vessel transported over 163,200 bags of cement over 7000km, which makes it one of the largest shipments of cement for Vanuatu.
Branch Manager of Vila Distribution, Calvin Fitzpatrick, mentioned that the operation is too large for a single business to handle on its own, which is why they are working with Wilco Hardware to transport 240 containers of just cement.
"Vila Distribution and Wilco got together and we decided that we've got a major shortage of cement in this country, getting the available space is difficult and we decided to get our heads together and bring in our own ship so that's what we did," Mr. Fitzpatrick said.
"Everything on that ship came in for us, we chartered it through our agent in Vietnam which is where we get our cement from so all the cement coming on this which is 6500 tons is all coming in for all our two entities here."
The Vila Distribution Brand Manager added that the goal is not to collude with Wilco by agreeing on an inflated price and forcing customers to pay but to create stability in the cement market.
Mr. Fitzpatrick explained: "We are not looking to make more money than we ever made before on cement we're looking to supply our customers and Wilco can supply their customers, which are builders and big companies and they have been having real trouble and when cement comes in, some people have been inflating their prices we want to make sure that the pricing is fair and reasonable."
Ocean Freight Charges to Further Increase This Year
Branch Manager of Wilco, Neil Lee, entered the conversation by stating that the catalyst that drove the two companies into partnership was the ocean freight costs and while they are managing costs together, the ocean freight charges are expected to further increase.
"The cost of ocean freight has increased again for quarter 1 and quarter 2," Mr. Lee said.
A letter by Sun Pacific Trade – an export company specializing in heavy machinery export, including cement – dated February 14 2022, read, "as we have been experiencing drastic on ocean freight last year, it seems that it will continue to be throughout 2nd quarter of 2022.
"This letter is to update on the current logistic issues happening in Pacific region and also all over the world. The information is based on the feedback from the shipping lines on their current data."
Aside from the ocean freight costs continuous growth, another thorn in the sides of hardware companies is that cement purposely isn't given space because it is simply too heavy.
"No space has been given to cement because cement container is heavy, one cement container is 27.2 tonnes, one cement container is almost equal to two normal containers," the Branch Manager of Wilco explained.
"For the shipping line, if they drop one cement container they can get two other types of containers that means they can make more money and it's about the space as well, the cost of the bulk cement can be lower."
The offload and transportation of cement took nearly a week and is expected to be complete by midnight (last night), with 36 20 to 40-ton trucks working 24 hours.