VT71M Contract to build Tanna VNPF Branch Office
January 21, 2021 12:21 am | Posted in Business News | Share now TwitterFacebook
By Anita Robert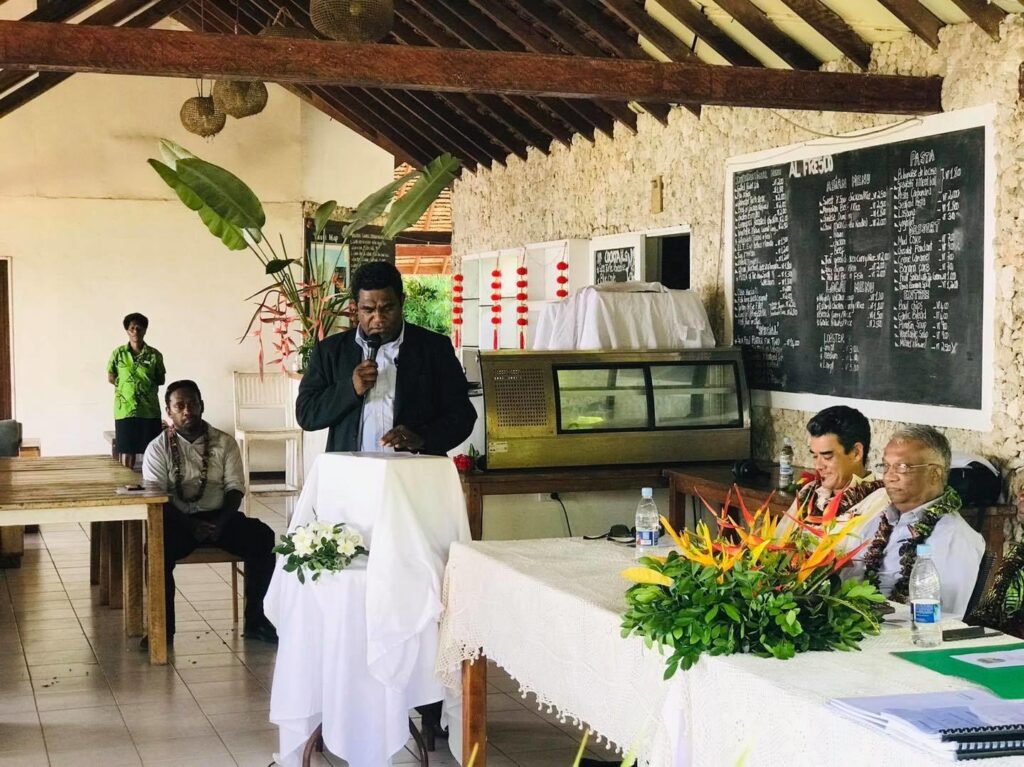 Islands Construction Company has signed a Vt71 million contract with the Vanuatu National Provident Fund (VNPF) Board to build the VNPF Branch Office in Tanna.
The construction of this two-storey building is set to begin soon on a plot of land acquired by VNPF in West Tanna. It will not only house the Tanna Branch but will be rented out to any interested tenants.
The building is expected to house a new branch of the National Bank of Vanuatu and a doctor's clinic to link its services to the Members Medical Scheme. Vodafone has been invited to secure an office space there as well as other companies.
Establishment of the Tanna office building will improve operations and services to members on Tanna and TAFEA Province, said the Director General (DG) of the Ministry of Finance and Economic Management (MoFEM)as Chairman of the VNPF Board, Letlet August.
"It will give VNPF the opportunity to offer instant online services to members. We are increasing our staff to meet the demand being created on Tanna," he said.
"VNPF is working tirelessly to bring services and benefits closer to its members.
"We are increasing the informal sector coverage throughout provinces and this will see the introduction of mobile bus services in Tanna, as in Port Vila and Santo.
"This will help the mamas and farmers to pay contributions to VNPF, right from their villages. They do not need to travel to Blackman Town anymore to visit the VNPF office to make their savings."
VNPF has been renting an office space since establishing on Tanna in 2009.
It is essential for VNPF to have its own building due to the increase in employers and staff to serve members and implement activities and projects, according to the General Manager (GM) of VNPF, Parmod Achary.
VNPF membership has grown steadily in Tanna in the last three years.
There are now 1, 107 members who are contributing to their retirement savings, which resulted in Vt9, 544, 0156 in collections by the end of 2020.
The number of employers stands at 141, among which 127 are privately owned companies and 14 are government organisations.
In his speech, the Minister of Finance responsible for VNPF, Johnny Koanapo, encourage people to start thinking about their future and join VNPF.
"It is not just about saving for your retirement, there are many other benefits such as: a safe place to save money, no account fees, annual interest, access to loans, partial withdrawals at age 47 or if one is unable to work," he said.
He explained that all VNPF members, whether from the formal or informal sector will benefit from the new Member Protection Social Benefit Scheme which covers special death benefit (Vt450,000), funeral assistance (Vt100,000), cyclone assistance (Vt150,000) and workplace injury (Vt150,000).
Minister Koanapo commended VNPF for increasing access to its services throughout the country and also sharing the common goal of implementing the government's decentralization policy.
The Tanna Branch Office will become VNPF's first building outside Port Vila and Luganville.
Cyrille Mainguy Consulting Engineers has been engaged to manage the project.
The project is expected to be complete within six months.