VT5M grant for Pacific Islands Legal Information Institute
February 8, 2022 11:32 pm | Posted in Business News | Share now TwitterFacebook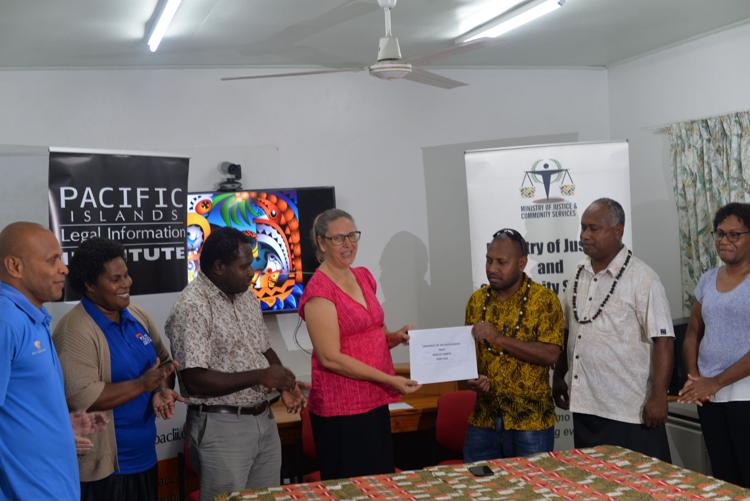 The University of the South Pacific (USP) and the Ministry of Justice and Community Services (MOJCS) have signed a Memorandum of Agreement (MOA) to formalise cooperation for the sustainability and improvement of the Pacific Islands Legal Information Institute (PacLII).
The Director General of MOJCS, Mr. Arthur Faerua, presented a VT5 million cheque to the USP Emalus Campus Manager, Mr. Ruben Markward and PacLII Managing Editor, Kym Freriks. This is the first annual grant to be provided under the MOA.
PacLII is located at USP Emalus Campus under the School of Law and Social Sciences and publishes Pacific law materials for 20 countries and territories in the Pacific region. It is a member of the global Free Access to Law Movement and through its website (www.paclii.org), all material is accessible without restriction and at no cost.
Free access to the law is essential in improving good governance, providing equitable justice and developing the law in the Pacific region. PacLII has now become an indispensable tool in the daily work of judges, lawyers, academics, students, and non-government organisations.
The website contains over 128,000 documents, including court decisions, legislation, law reform commission reports, ombudsman reports and other secondary legal resources. On average 100,000 pages are accessed per day and users located in Vanuatu are the fourth largest Pacific Island group to access the PacLII resources.
Significant historical legal material for Vanuatu is already available on PacLII including Gazettes from 1973, Joint Regulations from 1974-1980, and a selection of New Hebrides Joint Court, New Hebrides Supreme Court and New Hebrides High Court judgments.
With the annual funding provided by the Vanuatu Government, PacLII will be able to continue to publish up to date laws with the cooperation of the relevant agencies and digitise collections still not yet available.