VT592M Financial Guarantee For Air Vanuatu
November 18, 2020 3:06 am | Posted in Business News | Share now TwitterFacebook
By Godwin Ligo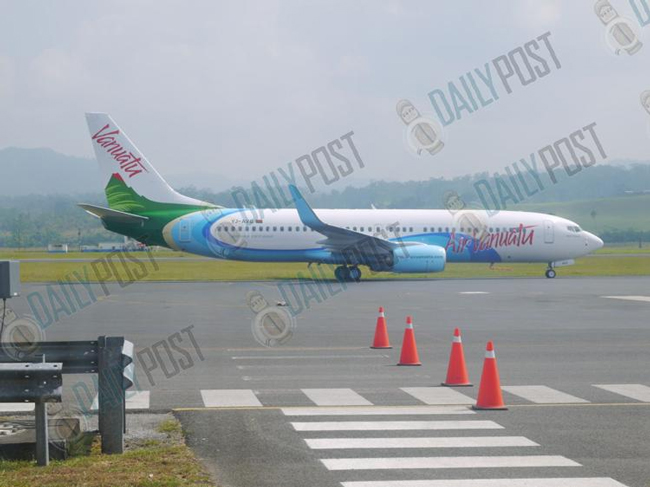 The Vanuatu Government has agreed to make a guarantee to Air Vanuatu for an amount of VT592,392, 950.
The VT592 million guarantee will cover: Aircraft Leasing costs for Boeing 737-800 from Air Lease Corporation (ALC); ATR72-600 from Nordic Aviation Corporation (NAC); a Twin Otter from Capstone; Aircraft Insurance; and ATR72 return to service.
Finance Minister Johnny Koanapo tabled the motion seeking approval for the VT592,392, 950 financial guarantee from the Government to Air Vanuatu in parliament yesterday morning. 
The motion was seconded by Infrastructure and Public Utilities Minister, Jay Ngwele.
Paragraph 60 (1) (c) of the Public Finance and Economic Management Act [CAP 244] requires the Minister of Finance and Economic Management to obtain the prior approval of the simple majority of Parliament before granting the guarantee.
Subsection 60 (2) of the Public Finance and Economic Management Act [CAP 244] requires that the Minister of Finance and Economic Management report to Parliament:
(a) the details of the guarantee or indemnity; (b) the reasons why the guarantee is necessary in the public interest and; (c) an assessment of the risks associated with the guarantee.
The Finance Minister stressed the importance of the national airline and at the same time said a Commission of Inquiry will be set up to investigate issues afflicting the airline. He said past boards and managements have failed the airline.
"Some people will be held responsible when the Commission of Inquiry complete its investigations," Finance Minister Koanapo said.
Former Prime Minister Charlot Salwai agreed there are long outstanding issues such as overseas airport fees, and the figures requested will help pave the way forward.
Prime Minister Bob Loughman supported the motion and reminded parliament that Vanuatu exclusively owns the national airline.