VT500,000 for top Namatan film
September 15, 2021 5:11 am | Posted in Business News | Share now TwitterFacebook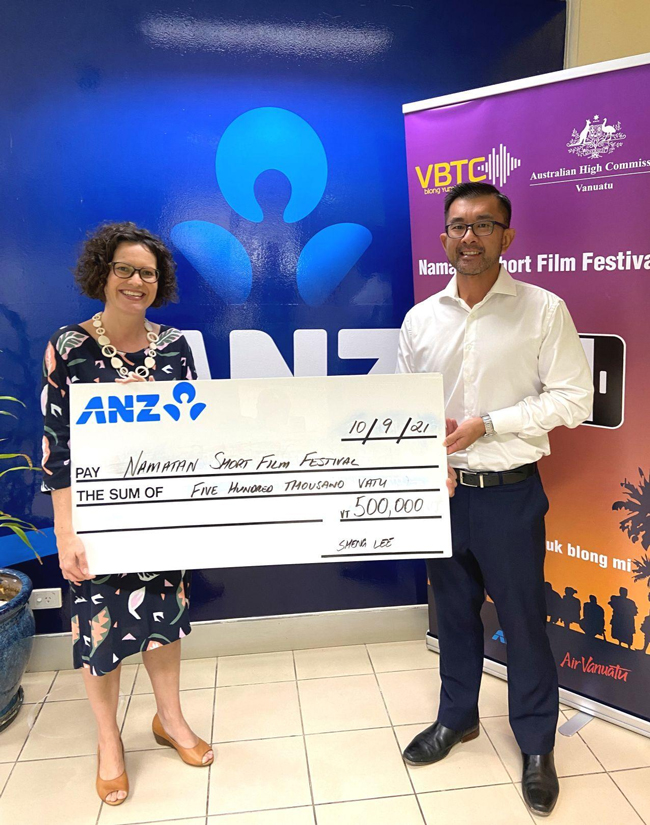 The ANZ Bank in Vanuatu has increased the value of its sponsorship for the 2021 Namatan Short Film Festival and will award VT500,000 cash for the First Prize Award.
"ANZ are proud to support the 2021 Namatan Short Film Festival; the showcasing of local talent through the amazing stories told is inspiring. ANZ are thrilled to again participate in Namatan, as it positively shapes the communities we live in," said ANZ Bank Chief Executive Officer, Mr Sheng Lee.
The Namatan Short Film Festival provides ni-Vanuatu with an opportunity to express their ideas and creativity through the production of local films that tell local stories. Since it began in 2012, the festival, which is a partnership between the Australian High Commission and the Vanuatu Broadcasting and Television Cooperation (VBTC), has grown from strength to strength. Last year's films were screened across Vanuatu to over 15,000 people and watched by thousands more through the Namatan Facebook page.
"Thank you to ANZ Bank for increasing the first prize award to VT500,000. This will be an even bigger incentive to attract Vanuatu's best filmmakers to enter into the competition this year. Ni-Vanuatu are amazing story tellers and talented actors and I look forward to watching high quality films again this year," said Australia's High Commissioner to Vanuatu, Sarah deZoeten.
ANZ Bank's support for the Namatan Short Film Festival since 2018 has helped boost the festival in attracting Vanuatu's most talented filmmakers.
As well as the VT500,000 cash on offer, the Digicel Second Prize Award winner will take home a brand-new Samsung Galaxy A72. The Digicel Third Prize Award winner will win a Samsung Galaxy A21s, and the School Category winner will win a smartphone. The winner of the Air Vanuatu People's Choice Award will receive return domestic tickets for two people to a destination of their choice.
"Such generous sponsorship from ANZ is indicative of its commitment to encouraging local talent to tell their stories. Incentives such as this only serves to enrich local content on Television Blong Vanuatu and we are ecstatic about the continuing growth of Namatan," said VBTC's Chief Executive Officer, Francis Herman.
For a chance to win these exciting prizes, films must be submitted to the Australian High Commission or VBTC by Friday 29 October 2021. To be eligible, films must include Namatan's unique item for 2021, a letter 'V'.