VT37M FOR 2-DAY LDC GRADUATION CELEBRATION
November 23, 2020 11:13 pm | Posted in Business News | Share now TwitterFacebook
By Glenda Willie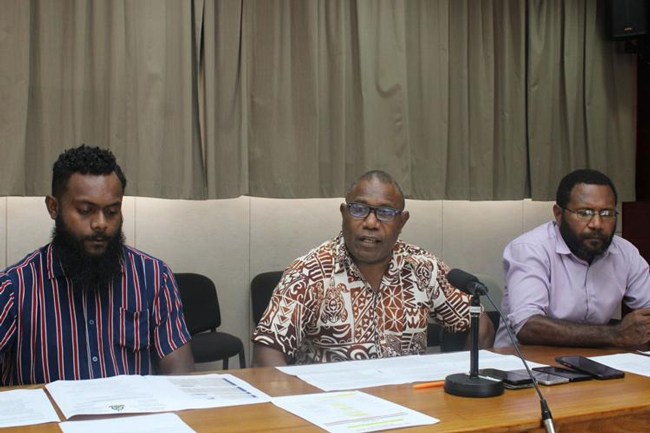 The Council of Ministers (COM) has approved a VT37 million budget for the 2-day nationwide celebration of Vanuatu's graduation from the Least Developed Country (LDC) to the developing status.
The celebrations will happen in Port Vila, Luganville, and throughout all the provincial headquarters on December 3 and 4.
National Events Coordinator, Fred Samuel confirmed during a press conference yesterday that VT1 million each will be distributed to all the six provinces. SANMA Province and Luganville will receive VT1 million each. The major portion of the funds will be used in Port Vila.
In recognition of the 4th of December being the date set aside for this significant event, CoM also endorsed that date as a public holiday. A recommendation has been made to the Prime Minister and due procedures will be followed prior to an official declaration from the Head of State.
Development partners also reaffirmed their support towards the two-day celebrations.
Activities that will highlight the two-day event in Port Vila include Talkback Shows, panel discussions on topics surrounding LDCs and what it means to graduate from the LDC category.
There will be cultural entertainment from Vanuatu and Pacific community groups, sports competitions and more entertainments from popular bands and fireworks display to end the celebration.
Speaking as the former Yumi 40 National Coordinator, Samuel stressed that this event is probably the most biggest achievement for Vanuatu that deserved the celebration.
"This is a very important year, we are mature as a nation," he said.
"The United Nations has recognized us and granted our fight to gain our political independence in 1980. A lot of people have worked together towards achieving this goal. The UN has also recognised that.
"It is worthwhile for Vanuatu to celebrate this graduation. We are demonstrating to the world that Vanuatu is capable and matured and now moving onto another level. Vanuatu must be proud, hence, set aside these days to acknowledge previous governments, this government, former leaders and all who have put effort and contributed towards this journey.
"While we celebrate, we not only celebrate, but a lot of educational awareness has to be done."
The National Coordinating Committee for the LDC Graduation event have provided explanations to clarify this issue. One of the important asked questions is why Vanuatu is graduating.
"A country can graduate from the LDC category by meeting two of the three criteria at two consecutive triennial meetings of the UN Committee for Development Policy (CDP)," the Committee members explained.
"Since 1991, Vanuatu has consistently met the per capita income graduation threshold, and in 2012, became eligible under the 'income only' criterion, having over twice the income per capita threshold. Vanuatu has never come close to meeting the economic vulnerability threshold.
"The CDP made special mention of the fact that Vanuatu remains 'highly vulnerable' and recommended that 'donors and trading partners extend the maximum possible flexibility and support' following graduation.