VFSC: NO GUIDELINES FOR DIGITAL ASSETS YET
August 7, 2021 11:19 pm | Posted in Business News | Share now TwitterFacebook
By Hilaire Bule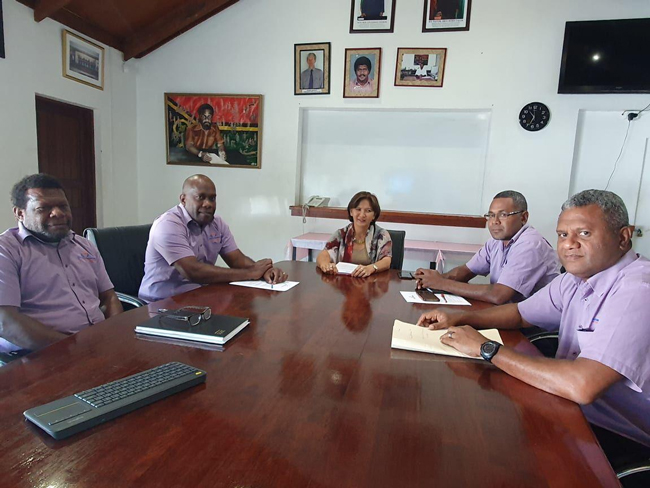 Vanuatu Financial Service Commission's (VFSC) Commissioner, Branan Garae, has said Vanuatu wants to promote digital assets but there is a risk as there are no guidelines in place yet.
He said there is a need to put in place a guideline for interested people to apply.
Manager Supervisor for the VFSC, Joshua Tari, said currently there is potential for the people to loose their money.
For that reason VFSC has decided during its board meeting this week to issue a first statement to educate people of Vanuatu on this issue.
VFSC said as the integrated regulator for non-banking financial services it is supportive of Fintech (financial technology)-related activities in the jurisdiction.
In light of the developments in Fintech activities, and the numerous queries from its licensees and stakeholders regarding the possibility for them to invest in cryptocurrencies and other digital assets, the Financial Dealers Licensing Act has been amended and now gazetted.
The amended Financial Dealers Licensing (FDL) Act No. 9 of 2021 created four classes of FDL licenses, Class A, B, C and D.
The Class D license authorizes the regulated and licensed entity to "provide service of distribution, secondary trading, custodial storage, provision of investment advice or other services in relation to digital assets".
In seeking to provide clarifications to its licensees and stakeholders on investment in digital assets, including cryptocurrencies, VFSC says it considers as a digital asset, any token in electronic/binary form which is representative of either the holder's access rights to a service or of the ownership of an asset.
A digital asset, in this respect, includes a digital representation of value which is used as a medium of exchange, unit of account, or store of value but which is not legal tender, even if it is denominated in legal tender, represent assets such as debt or equity in the promoting company and provides access to a blockchain-based application, service or product.
The VFSC statement said that a digital asset will, however, exclude any transaction in which a business, as part of an affinity or rewards programme, grants value, which cannot be exchanged for legal tender, bank credit or any digital asset and a digital representation of value issued by or on behalf of the publisher for use within an online game platform.
"Cryptocurrencies are not legal tender in Vanuatu and the VFSC considers it as sub-category of digital asset," the VFSC statement states.
Cryptocurrencies, unlike fiat currencies, are not legal tender in Vanuatu as per the Reserve Bank of Vanuatu communiqués No.15 of 2017 and No. 10 of 2018.
However, the VFSC acknowledged that, albeit reliant upon market demand and supply, cryptocurrencies have "value" since they are exchangeable for other things that have value.
"Thereby showing characteristic akin to physical commodities such as grain or precious metal.
"The VFSC thus considers cryptocurrencies, from a regulatory standpoint, as being a "store of value", similar to physical commodities."
The statement said there is recognition of digital assets cryptocurrencies as an asset-class for expert investors.
"Since transactions in cryptocurrencies are unregulated and their prices are extremely volatile in their exchange rates to fiat money, investments in cryptocurrencies tend to be of a high-risk nature.
"The VFSC nonetheless, recognizes that digital assets and cryptocurrencies may constitute an asset-class appropriate for investment by sophisticated investors, expert investors, expert funds, specialized collective investment schemes, professional collective investment schemes (PCIS) and closed-end funds (CEF) for licensed dealers.
"VFSC wishes to inform the public that financial dealers license holders are already regulated entities.
"Only these entities holding classes A, B and C licenses may be considered for a class D license which will be allowed to deal in digital assets.
"No issuance, no initial coin offering is allowed, so restriction in the nature of dealings.
"All of them are reporting entities to VFIU and are licensed and supervised by VFSC."
The VFSC statement went on to say that the addition of digital asset to the Financial Dealers Licensing Amendment Act is a small step forward for Vanuatu and a fully fledged regulatory and legislative framework still needs to be put in place and there is till a long way to go.
"The Distributed Ledger Task Force led by VFSC is currently working on further amendment and on a specific detailed legislation about virtual asset business that will address the needs of Vanuatu and will provide the necessary enabling legislation to ignite the full potential of blockchain technology.
"VFSC is informing the public that investment into digital assets and cryptocurrencies is not protected by any statutory compensation arrangement in Vanuatu.
"Given the high-risk nature of Investment, the VFSC considers that cryptocurrencies may not be suitable for investment by retail investors at this stage.
"VFSC thus urges all prospective investors to fully ascertain the related risk prior to committing any funds for investment in digital assets and cryptocurrencies.
"In addition, VFSC hereby informs the public and retail investors that any investment in cryptocurrencies is at their own risk and that they are not protected by any statutory compensation arrangement in Vanuatu.
"All Financial Dealers Licenses granted will be reviewed before renewal and at this stage VFSC confirms to the public that no license of class D for digital assets dealer has yet been issued.
"Innovation and digitalization are phenomena no jurisdiction can ignore; Vanuatu must mitigate the risks whilst harnessing the opportunities that digital assets provide."