VCH in Need of More Advanced Trainings
December 1, 2020 9:49 pm | Posted in Business News | Share now TwitterFacebook
By Adorina Massing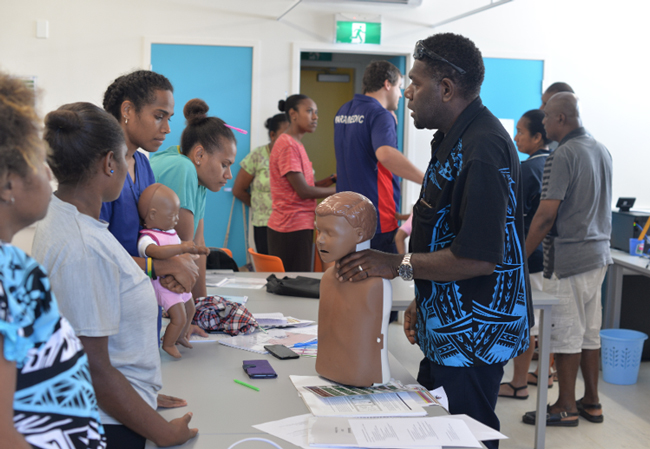 The Advanced Life Support Training conducted this month has exposed certain weak points that needed improvement at the Vila Central Hospital (VCH).
Advanced Nurse Practitioner and Midwife at the Emergency Department, Cliff Luke, said there is a need for more advanced trainings with health personnel to learn the proper techniques in saving lives.
"We rarely have advanced health workshops and in-service trainings provided for staff members at the hospital," he said
"Just like the ProMedical team, our emergency respondents need to continuously train themselves in the event of an emergency."
Mr Luke says the Advanced Life Support Training has well-equipped health workers with the knowledge of how to respond in an emergency and to be able to save a patient from cardiac arrest.
"Most nurses have no proper training on how to use a Defibrillator – a machine that restores a normal heartbeat by sending an electric pulse or shock to the heart, only doctors carry that knowledge.
"But when there are no doctors present when a patient has collapsed, available staff and nurses are not confident enough to use a defibrillator which can cost a life.
"This is why we need Advanced Life Support Trainings, to train and to boost confidence in our staff so they can stop depending on doctors and be able to save a life."
Mr Luke also said one of the major improvements he had seen was the transitional change of a patient's medical chart.
A medical chart, normally found at a patient's bedside is a complete record of the patient's key clinical data and medical history, such as demographics, vital signs, diagnoses, medications, treatment plans, progress notes, problems, immunization dates, allergies, radiology images, and laboratory and test results.
"Since I started work in 1999, the old medical chart has never changed, the same outline and content in black and white has been used for almost 21 years.
"Now the repository of information about a single patient is very crucial, but because the hospital is always a busy environment and with limited resources available, it is often hard to identify which patient needs more attention that the rest.
"But with this new update, the medical rating charts which comes in color, nurses can now identify and give priority to those who require immediate help.
"If shaded in red, it will alert nurses passing by that this particular patient needs urgent assistance.
"Yumi40 requires new changes especially in the hospital. Hence, the introduction of new medical rating charts is a good improvement to the health sector."
Luke, who was selected as a trainer for the next Advanced Life Support Training course said, "knowing that a patient's life is in your hands, you must make sure that you are prepared and confident enough to save that person at all cost."
The 2-day workshop was co-supported by the Australian Government through the Australian Volunteers Program (AVP) and the Vanuatu Health Program.