Vanuatu to participate in Dubai World Expo 2021
January 27, 2021 3:24 am | Posted in Business News | Share now TwitterFacebook
By Jason Abel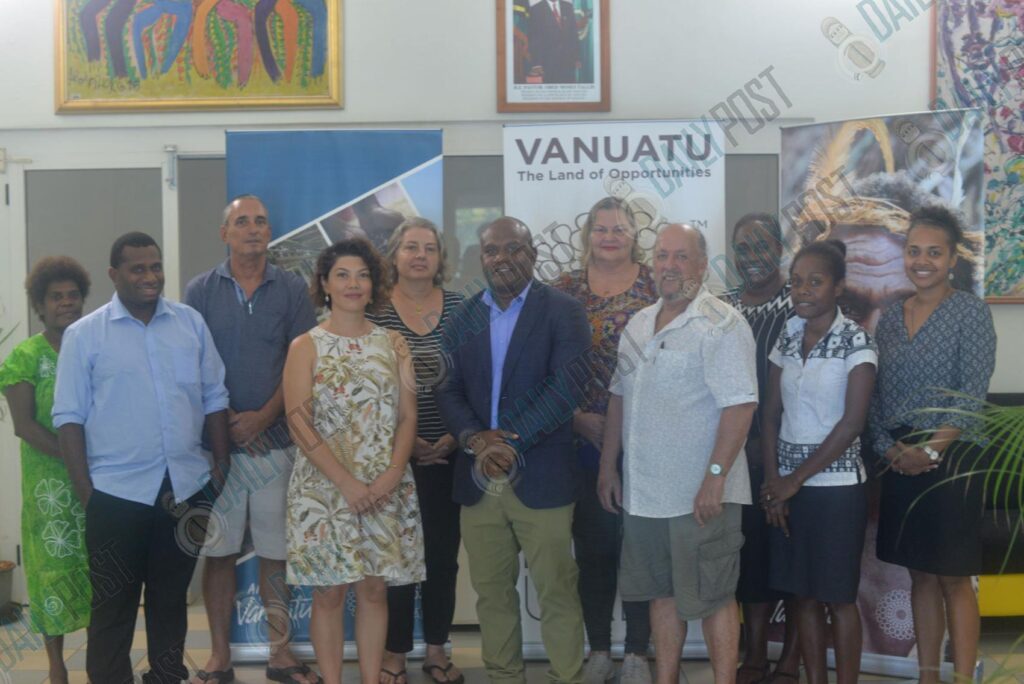 A signing agreement this week between the Ministry of Foreign Affairs, through the Department of External Trades and six manufacturing businesses in Port Vila, seeks to ensure Vanuatu's participation at the upcoming Dubai World Exposition.
Following the COVID-19 outbreak, the 2020 Dubai World Expo was postponed last year to this year, October 2021-April 2022.
The Director of External Trades, Mr Joe Pakoa, said that this year not only will Vanuatu be showcasing its products but selling it as well.
The six companies participating in the Dubai Expo are Tanna Coffee, Eau de Iles, Vanuatu Bijouterie, Fine Foods, ACTIV and the Vanuatu Handicraft.
"Dubai is a new place for Vanuatu and is a city where there are a lot of foreigners, and we want to expose our products not just for exhibition but to expose Vanuatu as a marketing destination as well for tourism and investment.
"This contract binds both the National Executive Committee (NEC), Vanuatu Government and the private sector.
"All products are prepared specifically to market them in Dubai.
"The industries are working with the products to be sent to Dubai in March.
"If the Expo goes ahead with travel restrictions still in place, the Ministry has also appointed a Trade Commissioner in Dubai, to support Vanuatu in supervising its activities."
He further mentioned that the NEC is working on this with few government officers including Vanuatu Institute of Public Management, Vanuatu Tourism office, in sending product contents to promote Vanuatu in Dubai.
Director Pakoa confirmed that this is a new initiative which has never happened in past expos in which Vanuatu only exhibited its products but none were on sale.
He stated that it is a great opportunity and with Vanuatu supporting the United Arab Emirates (UAE) Government's bid to host the event, the UAE government has supported Vanuatu with a full pavilion, alongside with other Pacific countries, providing a pathway for Vanuatu to showcase overseas.
"With the challenges of COVID-19 still attached, we hope and pray that vaccines will be available to assist countries to travel to Dubai for the Expo, moreover expose and represent Vanuatu as well."
Mr Pakoa further acknowledged the prayers and support of everyone in this time and call for cooperation always between the government and the private sector. He mentioned that the government is encouraging production capacity increase as well but at the same time find market destination for local products as well.
Tanna Coffee owner, Terry Adlington said that he is excited to be part of the World Expo and confirmed that despite challenges in travel restrictions, they are ready to showcase their products.
Mr Adlington stated that it is a great exposure for Vanuatu products in the International markets. He has attended past expos and is happy to participate this year.
"We're looking at more International markets. We have been operating domestically and regionally but our regional markets are limited to Australia, New Zealand, Fiji, Samoa.
"Dubai opens up to Middle East and Europe.
"There will also be hundreds of countries and millions of people attending the six-month event.
"Promoting the private sector and value additional products. Export is a way forward for manufacturing companies as well with domestic tourism still facing quite a challenge."
Mr Adlington is hoping the travel restrictions will be uplifted to allow travelling and tourism services back on the road.
The International event is an opportunity for Vanuatu to showcase its cultural uniqueness to the world therefore, Vanuatu's showcase is set around not only with the products it has to offer but the experiences that visiting Vanuatu can offer as a land of opportunities.
Preparations have continued to date despite the global travel restrictions imposed by, most countries. The preparation is an effort by the National Expo Committee headed by the Department of External Trades.
The government has supported the NEC with VT30 million in 2020 to assist with the preparations for participation.