V-Lab Launches Bisnis Nakamal
July 3, 2021 2:46 pm | Posted in Business News | Share now TwitterFacebook
By Josepheen Tarianga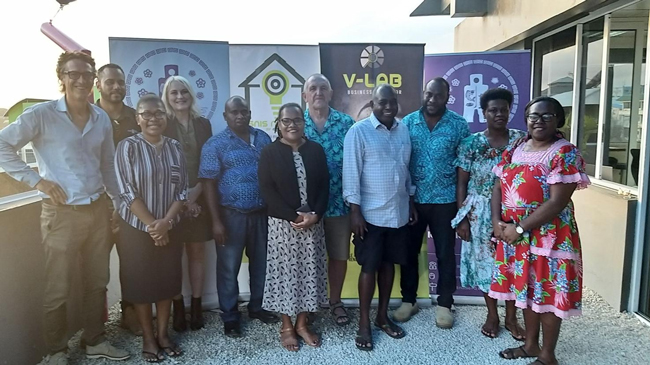 V-Lab has launched the Bisnis Nakamal, a program that offers tailored trainings and learning opportunities accessible to all.
V-LAB president, Marc Antoine says, "The Bisnis Nakamal represents a new and innovative way for V-Lab to reach out to even more talented young entrepreneurs and to offer them high quality learning opportunities to establish or develop their businesses.
"Our partnership with the Wanfuteng Bank will enable us to offer these learning opportunities at a very reasonable cost."
According to Marc, V-Lab programs work with incubees that meet a certain criteria, not everyone can have access to the benefits that these programs provide. The Bisnis Nakamal provides these benefits to individuals, businesses and the Government departments.
Unlike other programs that are sponsored by several sponsors, the Bisnis Nakamal is established in partnership with Breadfruit Consulting and Wanfuteng bank, which will be subsidising the costs allowing the trainings to be at affordable prices to all who are interested. Not only so, but unlike other v-lab programs that last almost a year, Bisnis Nakamal cycles last from 8 to the maximum of 12 weeks.
Presently three cycles have been developed to help young entrepreneurs. The Seed Haos, The Green Haos and The Market house. These all deal with different stages of an idea and a business.
The Chief Risk Officer of Wanfuteng Bank, Marianna Lal shares that "Wanfuteng Bank is proud to sponsor Bisnis Nakamal, the new V-Lab project supporting the development of business entrepreneurs. Since its inception, Wanfuteng Bank has been passionate about financial inclusion, financial literacy and advancement of local businesses, therefore this initiative ties well with the Bank's social responsibility objectives."
She continues; "The Bank considers the Bisnis Nakamal targets to be closely aligned with the Vanuatu 2030 Peoples Plan (National Sustainable Development Plan 2016-2030) Economy Pillar 4 by aiming to create jobs and business opportunities. The Bank is excited to see local talent being given an opportunity to access resources which will help them to develop their business ideas and turn them into viable business models."
Senior Consultant at Breadfruit Consulting, Chris Elphick says, "We are not running a training institution. This is about helping people learn and through learning, learning together. We will not be running huge workshops, we will be working in small groups."
According to Mr Elphick the whole notion of the Bisnis Nakamal is that there is no starting curriculum, there is just a need to help develop businesses. The whole idea is to create an environment to grow these business ideas and in turn, businesses.