TRBR's contract renewed
June 16, 2022 11:48 pm | Posted in Business News | Share now TwitterFacebook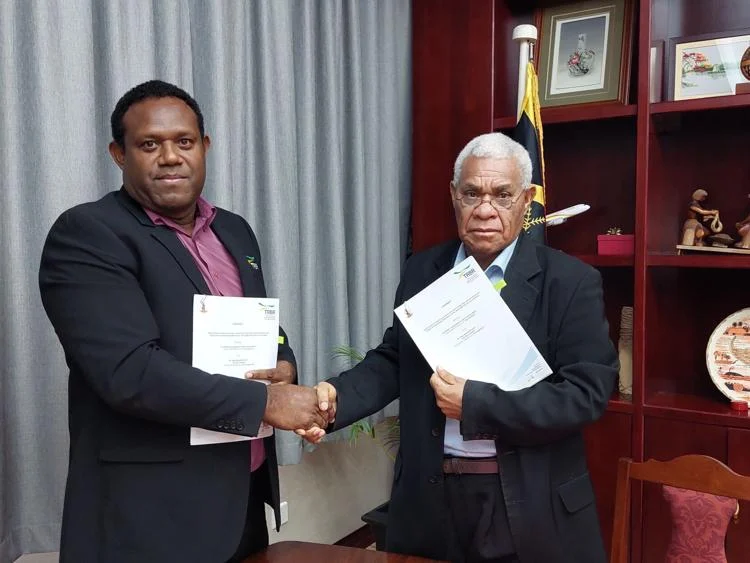 Prime Minister Bob Loughman who is responsible for ICT, Broadcasting and Telecommunications has renewed the contract of the Telecommunications, Radiocommunications and Broadcasting Regulator (TRBR), Mr. Brian Winji, for another term of three years in office.
According to the TRBR Act, the Minister may extend at the end of the period referred to in the Act, the period of appointment for a further six months or, with the approval of the Evaluation Committee, for a further three years.
During the signing of the extension contract, Prime minister Loughman stated that the extension of Regulator's contract was done according to the appraisals and recommendations made by the Evaluation Committee provided under the TRBR Act.
The Evaluation Committee consists of the Governor of the Reserve Bank of Vanuatu, who is the chairperson of the Evaluation Committee and a representative of the Judicial Service Commission who is not actively involved in the politics of any political party, and a senior officer of the Vanuatu Chamber of Commerce, who is also not actively involved in politics.
In his official remarks, PM Loughman explained that the Prime minister does not make recommendations, and the extension of Mr. Winji's contract was based on his appraisal, plans and targets of TRBR going forward.
"I encourage TRBR to continue working closely with the office of the OGCIO, representing the Vanuatu Government for the implementation of the policies including the Government Universal Access Policy (UAP)," the PM said.
Loughman acknowledged the geographical difficulties, other challenges from natural disasters and COVID-19 faced in the implementation of the UAP, but he assured the Regulator and TRBR that the government will always try its best to support the implementation of the UAP especially in this extension period. He confirmed the current extension of UAP policy approved covered a period of the next two years and this will be the final extension approved by the government.
He thanked the Evaluation Committee, the Director General (DG) of Prime Minister's Office, the Chief Information Officer (CIO) for the work done to facilitate the process.
On his part, Regulator Winji thanked PM Loughman and the government for the trust and confidence given to him and the decision to renew and extend his contract for another term especially in this pandemic situation, which is important to ensure continuity on the ongoing projects.
He added that TRBR will be working collaboratively with the national government for the implementation of the UAP along with all the operators, to ensure no one is left behind.
Regulator Winji also briefed PM Loughman on the upcoming undertaking agreement signing with the Operators, and the Sim Registration consultation that will be launched in the next few weeks to improve mobile coverage throughout Vanuatu, as well as ensure that all Sim Cards are registered with a valid Identification, including biometric identification.