Titan FX a Gold sponsor for 2022 SMART Sistas Girls ICT Camp
June 10, 2022 11:03 pm | Posted in Business News | Share now TwitterFacebook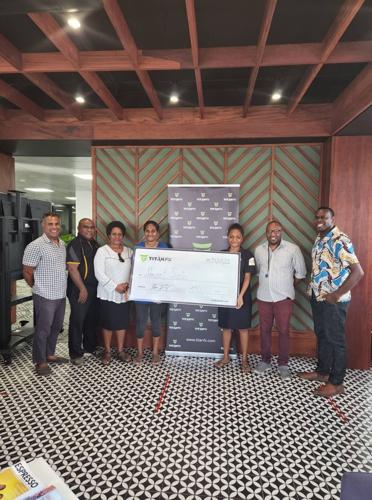 Titan FX is proud to be a GOLD sponsor for the 2022 SMART Sistas Girls ICT Camp, with ten lucky girls aged 9 to 14 taking a deep dive into the exploding world Of Information Communication Technology (ICT) in Lenakel on Tanna Island.
Created in 2014, SMART Sistas ICT Camp is an annual five-day camp that empowers girls to pursue educational opportunities in ICT, discover new passions and explore many exciting facets of this fast-growing industry.
Five girls from SHEFA province and one girl each from MALAMPA, PENAMA, SANMA, TAFEA, and TORBA provinces will be selected based on their learning skills and familiarity with computers and electronics. They'll follow the TechRocket.com curriculum, an online course that teaches kids to code and make their own cool apps and games.
In addition to 24 hours of technical training in all, 12 hours will be focused on leadership and gender empowerment, and 4 hours on career exploration in telecommunications, broadcasting, computer software and hardware, and digital media.
Titan FX's sponsorship, to the tune of VT150,000, is part of the financial technology company's ongoing efforts to promote the development of the local ICT talent pool.
"For the past eight years SMART Sistas has inspired many promising young girls to emerge in the ICT field, so it's only natural that a business like ours would want to support this initiative," said Managing Director Martin St-Hilaire.
"If we want to see Vanuatu grow and prosper, we need to diversify our economy, and for that, we need to teach new skills to our youth, especially girls. Who knows, perhaps some of this year's participants will launch the next big tech start-up in Port Vila a few years down the road."
At the end of the five days, each successful participant will be awarded a Certificate of Completion and will leave the camp with the laptop that was allocated to her at the beginning. This is to ensure that the girls continue to practice the skills learned in the program, on their own time and pace.
The SMART Sistas Girls Camp was created in collaboration with U.S. Peace Corps volunteers and staff, ICT Association Professionals (VIGNET), NGOs and a number of other partners.
To learn more about Titan FX's community initiatives, including those in education, health, business, sports, and civic life, visit titanfx.com/vu