Solar Buddy and Vanuatu Foresters' Association lighting up homes in the wake of TC Harold
June 22, 2020 12:01 am | Posted in Business News | Share now TwitterFacebook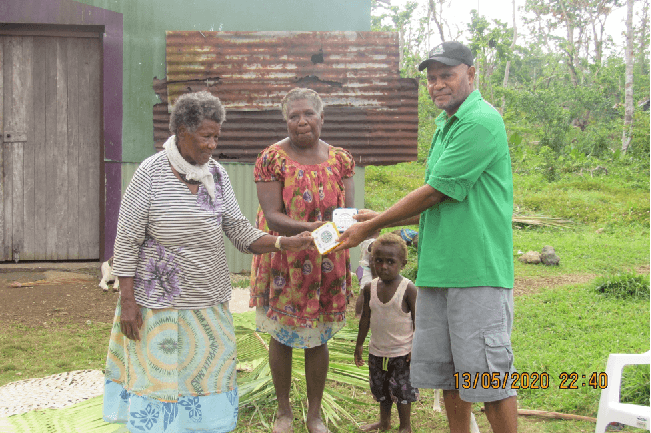 SolarBuddy.Org Ltd. an Australian registered charity in partnership with the Vanuatu Foresters' Association (VFA) — a local charitable organization — have distributed over 1,000 solar lamps in certain island communities visited in the wake of TC Harold.
These communities include some on Malo island such as Tanmial and Ataripoe; certain inland communities in south Santo, Big Bay, south and north Pentecost, and a community on Ambae.
VFA Chairman Arudovo Bani said the lamps were given especially to school children, women and old people to "bring some light and happiness into the lives of these people to assist their efforts to recover from the impacts of the recent disaster".
The VFA was part of the environment cluster team that recently carried out environmental and biodiversity assessment in areas affected by TC Harold.
The VFA thus made good use of the trip to assist some of the affected communities.
In giving out the lamps the VFA Chairman stressed that "extreme weather events such as category 5 cyclones should now be expected and accepted as a regular even and all should take heed of severe TC warnings given out by the Met Services".
Chairman Bani continued to stress that "The Vanuatu Foresters' Association sees the switch to using solar energy as a way forward in terms of mitigating CO2 emissions which is the alternative positive action to what the association has been doing in encouraging tree planting in communities."
The aim of Solarbuddy.org Ltd is to assist in building a sustainable future for Vanuatu.
Since 2019 Solabuddy.org Ltd has been giving out lamps to students in rural communities with the aim of assisting them with night studies.
Recently, however, the target of the lamp distributions was swayed to communities in the TC Harold path.
However, for the next shipments Solarbuddy.org Ltd and VFA will continue to direct distributions to rural school kids via the government education department.