RBV launches National Payment System, pays VT299M dividend
July 17, 2021 5:22 am | Posted in Business News | Share now TwitterFacebook
By Josepheen Tarianga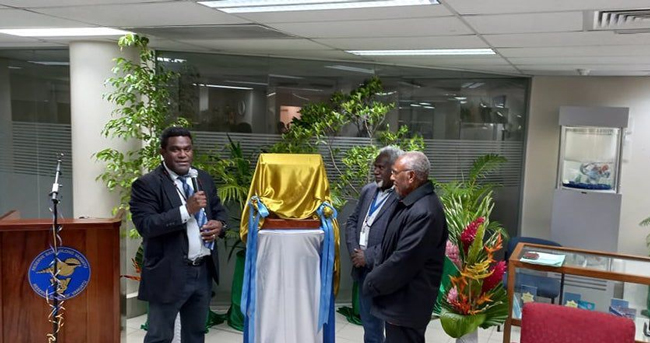 The Reserve Bank of Vanuatu (RBV)'s launching of the National Payment system (NPS) on Thursday coincided with its payment of a VT299,405,991 dividend to the Government.
According to the Governor of Reserve Bank, Simeon Malachi Athy, the inception phase of the project began in 2019.However, the beginning of the project began as early as 2012 when there became an apparent need to put an automated system into place due to an increased volume of in the bank transaction.
With that, the need to secure payment system that addresses payment and settlement risks and financial sector stability by strengthening the financial infrastructure in the Pacific.
The initiative is a project co-funded by the world bank with three countries in the Pacific currently implementing it. Samoa, Solomon Islands and Vanuatu.
Governor Athy says, "Vanuatu was placed last among the three countries for the IFC and Montran to carry out the first phases of the project, the inception phase. Further delays in completing this project phase by the completion date was due to COVID-19. "
Despite the pandemic's restrictions the NPS committee led by Dr Michael Hilian, proceeded successfully with the various phases of the project.
"Vanuatu is way ahead of the other two regional countries in terms of testing the system and well ahead in the preparation of having the system go live by 2022," says Governor Athy.
Minister of Finance and Economic Management, Johnny Koanapo states that the Government supports the NPS Act that had been tabled earlier this year
"As you know, an electronic payment system requires payment system law as well as other complementary regulations and policies that will help provide for proper regulatory oversight of the payment system in Vanuatu. The Reserve Bank is currently working on these regulations and policies and the Government will continue support you in this area to ensure we bring about a modern and well-regulated payment system in Vanuatu," says Mr Koanapo.
With that being said, the Minister of Finance officially launched the NPS project in Vanuatu.
The Governor of RBV presented a dividend of VT299,405,991to the Government. The dividend was received by the Minister of Finance after the official launch of the NPS project.