Prime Minister and Australian High Commissioner launch Tafea Cooperative Guest House
July 1, 2020 12:22 am | Posted in Business News | Share now TwitterFacebook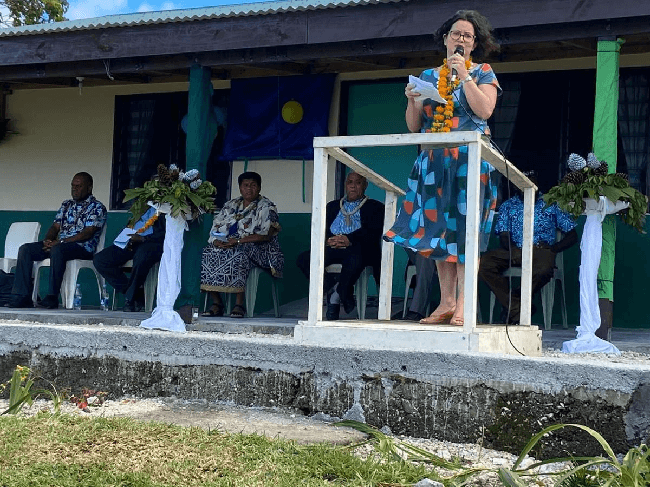 Prime Minister Bob Loughman and Australia's High Commissioner to Vanuatu, Sarah deZoeten, launched the Tafea Cooperative Guest House on Tanna, Tuesday this week.
"I thank the Government of Australia for its financial support to build the new Guest House, which has enticed the Government of Vanuatu to redevelop the Tafea Cooperatives," PM Loughman said.
"It is a key policy of this Government to encourage productive sector, value addition and inter-island trade and I encourage Tanna land owners to plant and fish more to justify the Government's resurrection of the Cooperatives," the Prime Minister said.
"Following Tropical Cyclone Pam in 2015, Australia worked with Vanuatu to build back better 63 public buildings, 204 classrooms, 73 health buildings and 19 cooperative buildings, including the lovely guest house we've launched today.
"We will continue this approach as Australia and Vanuatu work in partnership on the TC Harold recovery," said Sarah deZoeten.
The Tropical Cyclone Pam Recovery Program is a partnership between Vanuatu and Australia to support recovery focused on education, health, WASH, agriculture, public buildings, tourism and cooperatives. The program has been extended until December 2020.
Under the Cooperative Recovery Program, Vanuatu and Australia have rebuilt and renovated 19 cooperatives across Tafea, Shefa and Malampa provinces, in partnerships with the cooperative associations and through the Department of Cooperatives.
The Tafea Cooperative Guest House was badly damaged by Tropical Cyclone Pam and had to be rebuilt. The National Recovery Committee approved its reconstruction and the new Guest House launched by the Prime Minister and Australian High Commissioner is already receiving bookings for its first week.