PCV eyes potato industry
June 3, 2020 12:13 am | Posted in Business News | Share now TwitterFacebook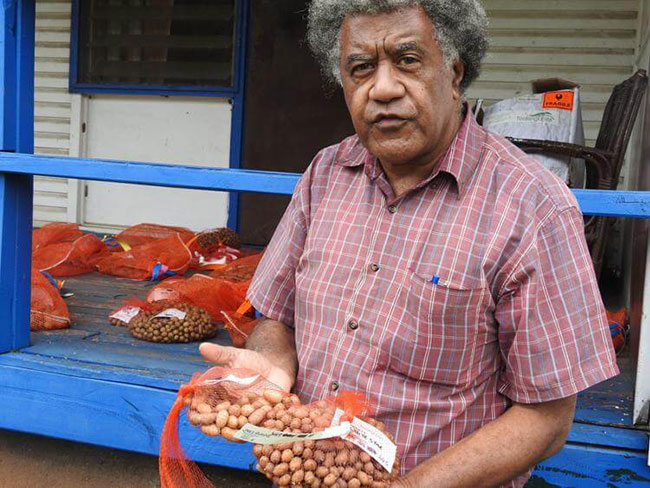 By Len Garae
The Presbyterian Church of Vanuatu (PCV) has a vision to develop a potato industry locally in order to stop importing potato while meeting food security and challenging diseases including NCD.
The statement is provided by the Financial Secretary of PCV, Meto Nganga, of Mele Village.
While standing opposite a display of the first bags of potato seeds on the verandah of a building opposite PMC, Nganga estimates the new arrivals to consist of approximately 2,500 potato seeds from partners in Australia to distribute to local farmers.
Nganga explains that the "mini tubers" or seeds are developed in a science laboratory and when planted for the first time in generation one, each seed can produce four to eight tubers.
"This also depends on the type of soil where it is planted and when you plant again from this generation two seed bank, it will produce five to eight tubers and when you plant with generation three, it will continue to increase in tubers," he says.
"With the seeds we have at present, when we plant during the next nine months, we would be looking at producing up to 150 tonnes of potato."
While the PCV partnership with Australia is ongoing, Nganga says the latest batch of tubers has arrived at this time to assist in the current situation after cyclone Harold devastated some northern islands.
He says the current batch of seeds/tubers will be distributed on Efate, Erromango and Tanna.
"The aim of the project is to produce seed which can then be sold to farmers in the village and Efate to plant to produce potatoes locally," he says.
Nganga who himself was involved in potato farming on his land behind Mele Village in the 1980s says, the current supply of seeds will also be distributed to farmers in his village to plant in fresh soil at a former family cattle farm behind the village.
"We want to see a united stand among families to work together to achieve together for the benefit of their families as there seems to be a traditional occurrence where when something positive happens on a piece of land then land dispute comes up.
"Land dispute is not an ingredient to development and we in Mele want to promote unity, love and prosperity through these potato seeds," Nganga stated in his advise to those involved in the project.
He says the aim of the project is to produce seed which can then be sold to farmers in the village and Efate to plant to produce potatoes locally.
Asked where the Government comes in as former Minister of Agriculture, Livestock, Forestry, Fisheries and Biosecurity, Matai Seremaiah and his technical staff had been involved in potato farming particularly on Tanna and Epi, Nganga confirms a longstanding partnership between PCV and the Government that goes back ten years at least.
"The Government is really behind us and in fact we thank in particular the Department of Agriculture for its sound partnership with PCV," Nganga says.
"We also wish to thank our partners in Australia who donated the Potato Mini-tubers especially Dr. Nigel Crump and his company AUSPICA based in Melbourne. This follows a potato seminar he came here to run in September last year.
"Those assisting us with this project are Elder Don MacRaild who is involved in assisting PCV with its Prevention for Blindness Project and other Health developments, and Allan Condron — a potato farmer from Victoria who has been assisting PCV with potato-seed trials on Tanna and Efate since 2009 when PCV commenced trials with potato farming."