Pacific Vocational Training Centre receives tools worth VT500, 000
March 21, 2022 9:32 pm | Posted in Business News | Share now TwitterFacebook
By Anita Roberts.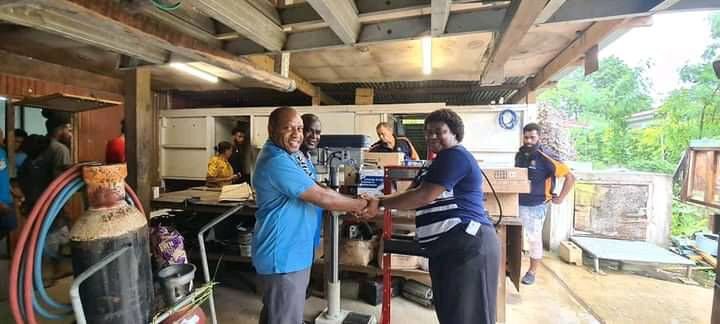 The Pacific Vocational Training Centre (PVTC) has received engineering and mechanical tools worth VT500, 000 from the Ministry of Education and Training (MOET).
The students at PVTC will be using these tools which an hydraulic shop press, hydraulic compression and a drill, during their practicals.
The Principal Education Officer (PEO) for Tertiary Education, Johnson Toa, Executive Officer for MOET Donald Pelam and the Private Secretary for the Minister of Education, Hosea Nevu, presented the equipment to the school.
These tools are financed by the MOET, through the Tertiary and High Education Directorate.
Principal of PVTC when acknowledging MOET for its assistance, says most of those who have attended the vocational centre are employed with a few working overseas.
According to the Principal, one of the current students enrolled in Certificate IV on Information and communication Technology is a 39 year-old who did not have the chance to complete studies a few years ago.
Courses offered by PVTC are: Certificate IV in Mechanical Engineering, Certificate IV in information Communication Technology and Certificate IV in Electrical Engineering.
The MOET has commended PVTC for its contributions in enhancing local skills that contributes to boosting local economy.
This is the MOET's first assistance to PVTC.