New brand position for Vodafone
April 6, 2021 11:46 pm | Posted in Business News | Share now TwitterFacebook
By Josepheen Tarianga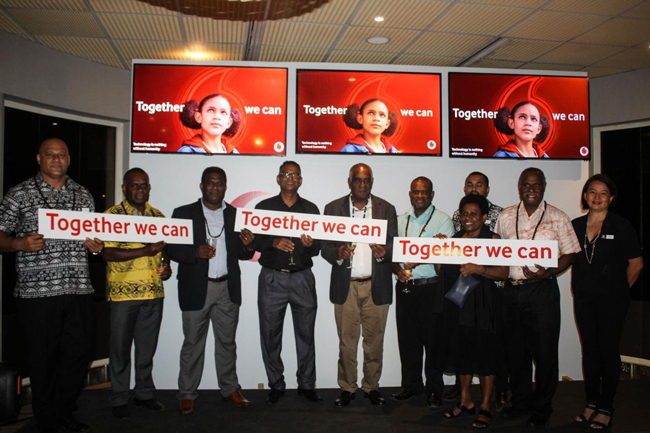 Vodafone has successfully launched its new brand positioning, a new approach to telecommunication for a better future.
In April of 2020, Vodafone — then Telecom Vanuatu Limited — announced its exchange of brands to Vodafone Vanuatu. Since then the World-renowned multinational telecommunication Brand has been providing the people of Vanuatu with 4G+ network.
Vodafone now celebrates a new achievement as it unveils its new brand positioning.
A global event that took place on the 1st of April, this coinciding with the 1 year anniversary of Vodafone Vanuatu.
The launching was witnessed by many business owners, representatives and government officials.
The new brand positioning "Together we can" isinspired by consumer research. This research has shown the evolution of technology in people's lives, how it has changed and this has led to Vodafone taking initiative to take responsibility for the role of technology, making sure it is completely inclusive.
In his speech, Barlen Lutchmoodoo, the CEO of the company commented on how the pandemic has affected the world and Vanuatu.
Presently the world is still in a period of uncertainty. The world must recognise that the way things are presently with everything, including technology, is the new normal.
During the crisis the company has witnessed how technology has played a key role in allowing economic activity to continue during lockdown or movement restrictions.
This has been through activities such as Teleworking, online trading, online portals, e-commerce, mobile or digital wallets and e-learning.
There is a need for new avenues to be made, new strategies to be created so that no one is left behind.
Vodafone expressed its view that humanity and technology can combine to create a better future and improve people lives.
This is the purpose of the new brand positioning.
The Vodafone CEO said, "The refreshed new brand is really adapted to the way we are working with the Government and authorities as we are working together to make things happen."
CEO Lutchmoodoo assured the company will continue to work in collaboration with the Government and different ministries to find solutions ensuring business continuity.
This includes working with the Ministry of Education on E-learning tools and free access to education sites, working with the Ministry of Health and the Vanuatu Tourism Office to find digital solutions allowing a safe recovery for the tourism industry, as well as collaborating With the Ministry of Trade and Agriculture to ensure ICT solutions are being used effectively.
Deputy Prime Minister Ishmael Kalsakau commended Vodafone for its good works and new brand positioning. He added the Government looks forward to collaborating further with the company.
Following the Deputy Prime Minister's speech, the repositioning of the brand was officially launched.