NBV and Digicel major sponsors for 40th Independence Anniversary
July 10, 2020 3:49 am | Posted in Business News | Share now TwitterFacebook
By Anita Roberts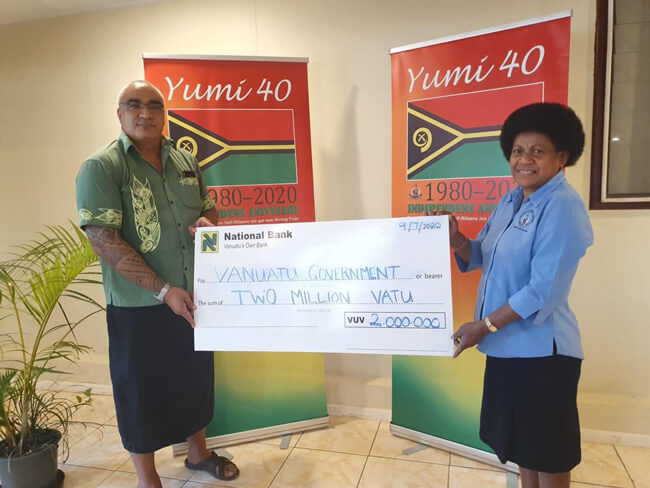 The National Bank of Vanuatu (NBV) and Digicel are the main sponsors and partners for Vanuatu's 40th independence anniversary celebration.
Both NBV and Digicel have presented Vt2million cheque each in a sponsorship agreement with the Sub-Committee for the 40th Independence Celebration.
Agreements were also signed with Vodafone, World Vision and Nambawan Wota yesterday (Thursday).
National Coordinator for the 40th Anniversary Celebration, Fred Samuel, said Vt5.1million was received from the first agreements signed.
Samuel said the number of sponsors is expected to increase.
With just two weeks left before country's birthday, government ministries, including the Parliament, State House and the six provincial headquarters are already pulling up independence banners.
Many shops around Port Vila Town have their decorations up and the Vanuatu Flag is seen raised at some homes including passing vehicles.
It is also raised on the street starting from the Port Vila Airport to Tagabe.
Coordinator Samuel said the idea is to get everyone excited and ready to participate in the activities scheduled for the special day.