Local Pharmacist behind the most affordable pharmacy in town
October 16, 2021 11:52 pm | Posted in Business News | Share now TwitterFacebook
By Josepheen Tarianga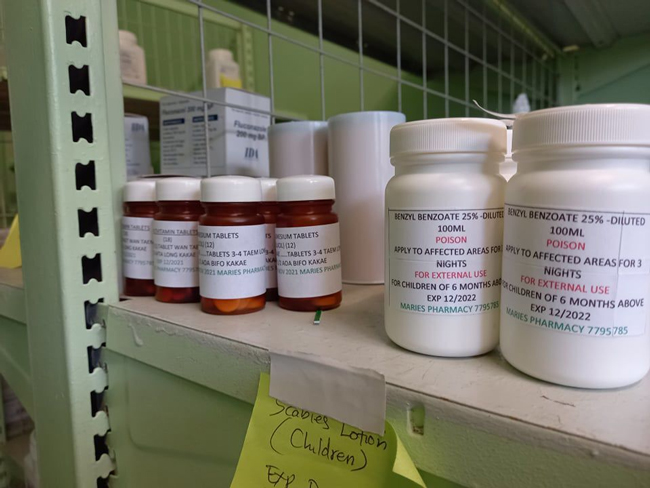 The most affordable pharmacy in town is locally owned, with medications ranging from VT100-Vt1,000.
The Marie Pharmacy is located behind the Mamas Handicraft Center in town and next to the new police building in the Centerpoint area. The clinic has been running since 2012 by 36-year-old Ambaen Pharmacist Vuti.
Ms Vuti studied for pharmacy work at the Fiji School of Medicine and upon returning to Vanuatu with her degree, she worked for two years at the Vila Central Hospital. From there, she worked with a private company before deciding to open her own pharmacy.
"Opening my own pharmacy was always something I wanted to do," she said. "I wanted to stay on at VCH but at the time I was working they had no permanent positions, so I kept having to renew my contract. I wanted something more permanent so I joined a private business and the consequently started my own business."
The pharmacist said the Marie Pharmacy does not stock cosmetics or other beauty products and stocks according to local clinics and what medication these clinics use. The medication the pharmacy sources is from IDA pacific, a supplier from IDA foundation.
"The medication is shipped directly from Netherlands. We buy about VT50,000-Vt100,000 for our supplies each month. The highest we have paid in supplies is VT300,000," she said.
Vuti's affordable prices allow her to compete on the market with other mainstream pharmacies. Most of her customers are locals and she has a very god relationship with her customers.
The business has no support from the government as she has developed it on her own.
"I am currently involved in a program with the Vanuatu Chamber of Commerce which has helped me greatly to run my business and to stay competitive on the market," she said.
Marie has made the pharmacy business convenient as she has recently set up a Facebook page for the business, where customers can reach her concerning medication and prescription questions.