Local entrepreneur opens Takeaway at Blandinere
January 4, 2022 10:25 pm | Posted in Business News | Share now TwitterFacebook
By Hilaire Bule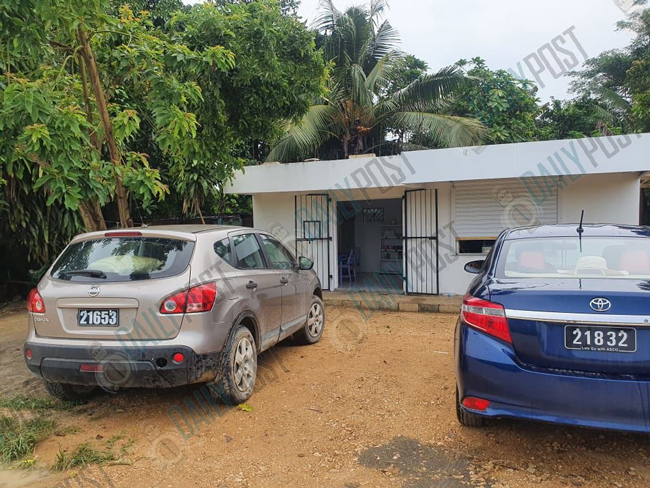 People in Port Vila call him a 'Ni-Vanuatu Chinese', but his real name is Leon Yawah.
Mr. Yawah hails from Loutapunga village, Tanna.
Yawah is a Ni-Vanuatu who has been competing with the Chinese retail business community in Port Vila for more than three decades. At the age of 17, he started to make "gateau huit" under a tarpaulin at Manples area.
"In 1988, I made 20 gateau huit every morning," he said. "I carried them in a basket and sold them at INTV where I was studying as a mechanic, after completing Grade 1-6 at Loutapunga Catholic Primary School back home.
"At the end of my studies in 1989, I was left with VT11,000. This was the remaining money from my gateau huit savings.
"I made my first deposit of VT3,000 out of VT11,000 at Indosuez Bank. I continue to cook gateau huit and sell it under the tarpaulin. Shortly after, I bought three metal roofing sheets. The three iron roofing sheets later ended up on a permanent building, which I named Perinoz."
Asked what Perinoz means, he replied, "My father died when I was 5 years old. One night, I dreamed I went into a big building.
"I saw my father inside the building and I was told he owned it. I also saw that Perinoz was the name of the building.
He said in 1989, there was a business boom and he purchased cargo valued at VT800,000 from Au Bon Marche.
Perinoz was thriving until the Chinese expanded their business to Manples and Tebakor, and the shop was rented out. Perinoz is now a Chinese Takeaway.
"I bought my first car at the time and used it as taxi," Yawah continued.
On 24th of December 2021, Yawah opened a new shop and takeaway at Blandiniere Estate. He said too many businesses are complaining that there is no money because of the COVID pandemic.
The local entrepreneur said if there is no money in Vanuatu, this will be reflected in the national annual budget. He said people talk about tourists but only public transport operators and mostly mothers who sell artefacts to the tourists benefit from foreign visitors, not all locals. He added foreign investors who operate hotels and restaurants benefit more from tourists.
"This takeaway is for locals living at Blandiniere and have less money to spend, compared to those who are can afford eating at other takeaways in town," he said. "A plate of food costs VT250. The price will not change. We cook local food with salad and the price will remain at VT250."
He said since the opening of the takeaway last week, Blandiniere residents bought food there because it is much cheaper for them, compared to buying from a Chinese takeaway for more than VT380 and VT300 bus fare.
He said for the time being, he is using local food from his own garden on Efate, but he plans to buy local produces from Tanna in the near future.
Yawah also trains his young sons and daughters as chefs and to step in as cashiers.
"We have to train our children and teach them practical skills that will help them in the future," he said.