JICA hands 24-ton excavator for Bouffa Landfill
April 16, 2022 10:24 pm | Posted in Business News | Share now TwitterFacebook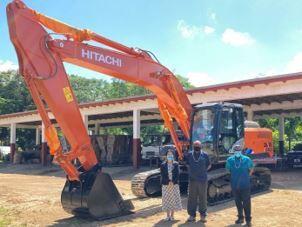 The Japan International Cooperation Agency (JICA) Vanuatu Office handed over a 24-ton Hitachi brand excavator to Port Vila City Council (PVCC) on Tuesday, 12th of April 2022.
In 2006, JICA seriously concerned the solid waste challengers of beautiful Port Vila City and started the first "Bouffa Landfill Rehabilitation" Project and the first phase of the J-PRISM Project (Japanese Technical Cooperation Project for Promotion of Regional Initiative on Solid Waste Management) was conducted from 2011 to 2016, then now second phase of J-PRISM II project is undergoing till 2023.
Due to the huge increase of waste from Port Vila City, Bouffa landfill site is now facing the needs of rehabilitation and expansion.
PVCC had received the bulldozer and garbage truck (compacter) for the collection of waste and leveling the ground from Embassy of Japan in Vanuatu two years ago.
But larger capacity excavator was required for the construction of access road and expansion of the landfill.
"Even at the current level 3 situation under COVID-19, people must survive and live," Resident Representative of JICA Vanuatu Office, Ms. Rika Uemura said.
"It means garbage is generated every day. PVCC and their staffs are working so hard to keep waste management operation in Port Vila City.
"JICA wish PVCC will continue to operate the waste management operation with this large capacity excavator and keep the beautiful city, Port Vila clean."
Town Clerk of PVCC, Mr. Peter Sakita said, "PVCC keeps good relationship with JICA for a long time since first Bouffa Landfill Rehabilitation project in 2006."
He added, "JICA and the Government of Japan are continuing assistance to support PVCC. The PVCC Waste Management team must remember that the excavator and other machines must be maintained well for the long-term operation."
Ms Uemura mentioned JICA's assistance is not only in providing the equipment.
"Capacity development is the most important for the cooperation," she said.
"JICA has a scheme to dispatch Japanese experts to Vanuatu and providing training in Japan for PVCC staff for more effective cooperation.
"We hope that Japanese experts will come to Vanuatu and also PVCC staff will be able to go to Japan for the training soon, although it will depend on the COVID situation."
JICA is planning to implement the third phase of the J-PRISM III project with PVCC, Department of Environmental Protection & Conservation and Luganville City Council for from 2023 for a period of 5 years.