ITL harnesses networking and stakeholder engagement to boost port operations
July 18, 2023 3:35 am | Posted in Business News | Share now TwitterFacebook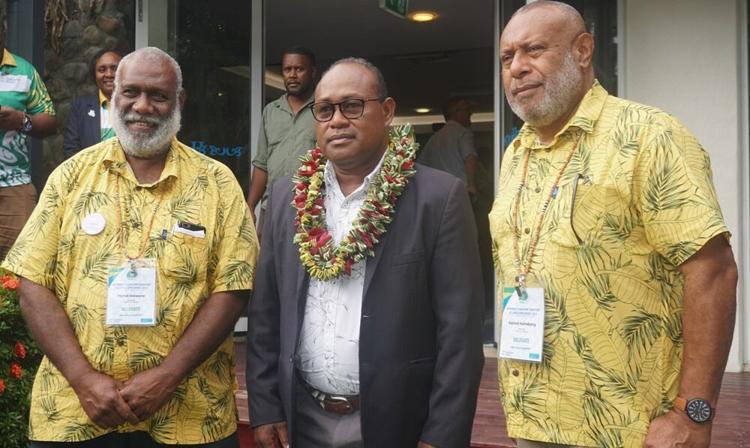 Executive Director of the Ifira Santo Wharf and Secretary of Ifira Trustees Limited (ITL), Michel Kalworai, and Director Kalmet Kaltabang were part of the Vanuatu delegation to the 54th Pacific Maritime Transport Alliance Conference in Solomon Islands.
ITL, which oversees Vanuatu's domestic and international ports, highlighted the critical role of networking and stakeholder engagement at the conference.
Kalworai and Kaltabang expressed their enthusiasm for participating in the delegation and emphasised the vital contribution of the private sector in supporting domestic trade and bridging gaps.
ITL aims to collaborate with Pacific counterparts and key stakeholders such as the Secretariat of the Pacific Community (SPC) and the Secretariat of the Pacific Regional Environment Programme (SPREP).
"These engagements are crucial for charting our future path, especially in terms of securing funding and providing service to the public at large, which remains a significant challenge for the company," Kalworai stated.
While the government oversees the Port and the Harbour, ITL plays an instrumental role in implementing policies. The company relies on the support of the government and stakeholders to successfully fulfill its mission.
Currently, ITL operates international and domestic ports in Port Vila and Santo. While the Port Vila handles international cargo, the company is upgrading an old wharf in Santo to facilitate domestic operations in the Northern Province.
However, the funding required for these initiatives poses a hurdle. Attending the conference offers a valuable opportunity for networking with stakeholders and garnering support for the construction of a new domestic wharf in Santo
"In addition to our ownership of the modern Port Ifira Ports Development Services in Port Vila, which handles international cargoes, the government operates the Vanuatu Government wharf, catering to tourist boats," Kalworai explained.
Recognising the significance of networking and stakeholder engagement in their pursuits, ITL actively seeks collaboration, engages in discussions with government entities and regional organisations, and addresses funding challenges. Leveraging these connections, the company strives to enhance its operations and contribute to the growth and development of Vanuatu's domestic market trade and international market.