Innovation, social entrepreneurship in Vanuatu
July 8, 2020 3:17 am | Posted in Business News | Share now TwitterFacebook
By Godwin Ligo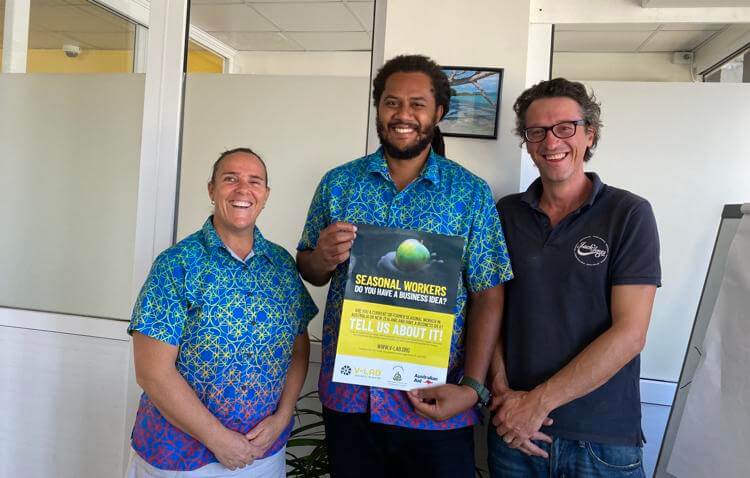 The V-LAB is a charitable Association created to support innovation and social entrepreneurship in Vanuatu. Working hand in hand with Yumiwork, Port Vila's first co-working space, V-LAB seeks to provide access to facilities, services and mentoring to young entrepreneurs in Vanuatu with the view to enable them to develop and grow their businesses as well as to promote entrepreneurs in the country.
Since its establishment in October 2019, the Association has reached out to young Ni-Vanuatu Regional Seasonal Workers in Australia and New Zealand and at home about the purpose and the objectives of the Association. Many Ni-Vanuatu entrepreneurs and even those not in businesses have come forward wanting to know more about V-LAB.
In an interview with the Daily Post, founder of the V-LAB Marc-Antoine Morel, explains that with the support of the government of New Zealand, and fully registered with the Vanuatu Financial Services Commission (VFSC), V-LAB is composed of individuals, both Ni-Vanuatu and expats with considerable expertise in business development, entrepreneurship and innovation in the country and beyond.
"V-LAB business development program has three main objectives. First is to accompany young entrepreneurs in the development and growth of their businesses, with an emphasis on businesses which focuses on innovation, green economy and social entrepreneurship, secondly to improve and enhance the financial inclusion and digital transformation of these businesses to the Vanuatu market, in close coordination with our banking and ICT partners and thirdly, to influence and support the development of an environment that is conducive to entrepreneurship in the country, through for instance policy reform and development," President of the Association, Marc-Antoine Morel, pointed out.
"We believe there are young Ni-Vanuatu business entrepreneurs both male and female, out there with innovation of new products for this country," Marc-Antoine Morel assured.
V-LAB has started a survey to collect data and information on the level of interest of Seasonal Workers for entrepreneurship in Vanuatu. The survey is conducted as part of a project implemented by the V-LAB in cooperation with the Australian Government and the Department of Labor of Vanuatu.
"It is our hope that the best and most innovative business ideas identified here will be supported through the next phase of this program," said Morel. The survey is kept confidential and will not be shared with others, he pointed out.
Georgia Noy, Labor Mobility Engagement Manager, the Employment Service Unit, and Patrice Kuatonga, Senior Labor Officer Employment Services Unit, both at the Department of Labor, say many Ni-Vanuatu Seasonal Workers in Australia and New Zealand, already have plans as to how they want to invest their earnings once they return to Vanuatu.
"Many who have been to Australia and New Zealand a number of times, have already established businesses or build homes and are eying new business undertakings in agriculture and other sectors. Many are successful in their business undertakings in small but successful ways and moving on in life," they say. Many of these who are either back in Australia or New Zealand are entrepreneurs and they have now contacted V-LAB because they see new innovations in either Australia or New Zealand that have challenged them to have a start-up whether similar or different of their own when they return home," Kuatonga and Noy revealed.
On the question of what type of businesses V-LAB supports, Morel said V-LAB strongly believes in the power of innovation and the value social entrepreneurship.
"As such, we wish to support businesses that are creative and or using innovative technologies. As much as possible, we would also like to support business which are respectful of the people and of the environment," he stressed.
He said many young Ni-Vanuatu have approached V-LAB since it was established in October last year and many call in at the office every day of the week. Many make contact using V-LAB website and contacts.
The V-LAB is financially supported by the Bred Bank, Vodafone, the Australian Aid and others and partnering with the Employment Services Unit of the Labour Department.
The President, Marc-Antoine Morel, is positive that more organization in Vanuatu will lend their support towards the program that is aim to help Ni-Vanuatu business entrepreneurs paving their way successfully into the business world.
"Coming together is a beginning, staying together is progress, and working together is success," is what a group of Expats and Ni-Vanuatu who have come together to support and promote entrepreneurship in Vanuatu.
"Together, we bring a great amount of experience, expertise, passion and commitment to accompany young entrepreneurs in the country," Morel expressed.