Infrastructure, Tourism Ministries announce sponsorships for e-commerce symposium
June 29, 2021 3:12 am | Posted in Business News | Share now TwitterFacebook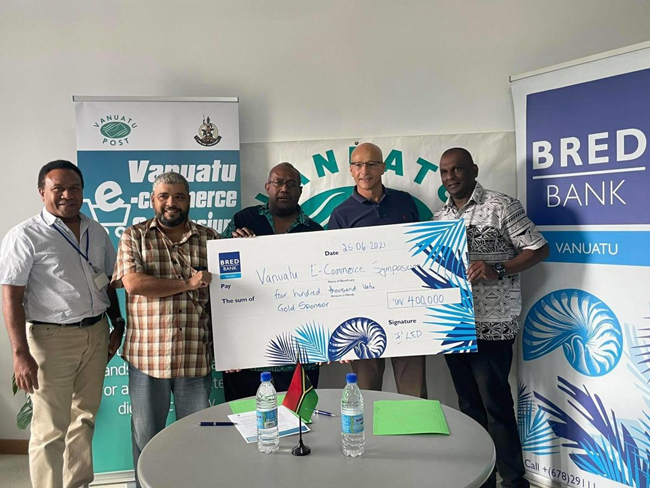 The Ministries of Infrastructure and Public Utilities (MIPU) and Tourism, Trade, Commerce and Ni-Vanuatu Business (MTTCNB) has announced their contributions as sponsors of the first national e-Commerce symposium.
The MTTCNB gave Vt1 million and MIPU Vt300,000.
Vanuatu Post Limited (VPL) as another major sponsor provided Vt500,000, both Bred Bank and the Office of the Government Chief Information Officer (OGCIO) provided Vt400,000, Nambawan Wota, 83 Distillery, Vodafone and Telecommunications Radiocommunications and Broadcasting Regulator (TRBR) gave Vt200,000 each. Computer World and TitanFx gave Vt100,000 and the Vanuatu Tourism Office gave Vt50,000.
These sponsorships were received by VPL as the organiser of the e-commerce symposium last week. The organiser is expecting to be receiving more sponsorships.
Minister Ngwele as minister responsible for the VPL said the government would like to see the company uses technologies and embarks on innovative solutions to maximizes productivity, reach more citizens and increase revenue.
"Mails and parcels delivery are core business activities of the Vanuatu Post Ltd. During the COVID-19 pandemic, Vanuatu Post Ltd went through financial challenges just like any other business and State-Owned Enterprise," he said.
"As part of digital transformation of the central Government, I specifically mandated Vanuatu Post Ltd Board of Directors to carry out e-Commerce initiatives to boost mails, parcel delivery and encourage usage of technology at various operations of the Vanuatu Post Ltd throughout Vanuatu.
"E-commerce is the buying and selling of good or services via the internet, and the transfer of money and data to complete the sales. It's also known as electronic commerce or internet commerce.
"The primary purpose of the e-commerce symposium is to encourage both the public and private sector to exchange ideas, dialogue and share challenges in developing e-commerce environment, and we hope to see some tangible actions that is doable to foster a strong e-commerce growth in Vanuatu."
The national e-commerce symposium will be held for two days at the Convention Centre in Port Vila.