Fisheries Regional Observer Programme training goes online
December 14, 2020 10:18 pm | Posted in Business News | Share now TwitterFacebook
by Terence Malapa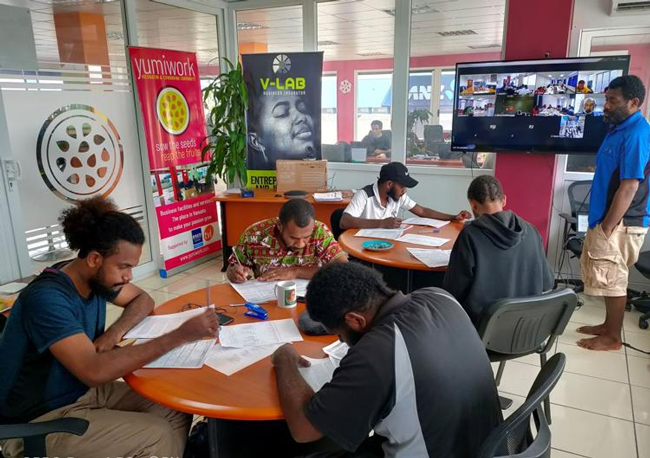 Since 2008 Vanuatu has been hosting the Regional Observers Programme (ROP) Training at the Vanuatu Maritime College (VMC) in Luganville, Santo, bringing together budding Observers from around the Western and Central Pacific region.
This year with the COVID-19 Pandemic bearing down hard on the local economies and closing borders around the World and the region, the annual ROP training at the VMC was cancelled due to Vanuatu borders on lockdown.
South Pacific Community (SPC) saw an alternative way out and decided to put to the test, a first of its kind training involving Zoom online conferencing involving Vanuatu, Fiji, Samoa, Tonga and Nauru.
The ROP training funded by Fishing Forum Agency (FFA) and facilitated by SPC through trainers from Tonga, Fiji, PNG and Nauru, saw new Fisheries Observers from the 5 Pacific Island nations go online through Zoom online conferencing and underwent the ROP training with the aid from local facilitators all the way from Fiji, Papua New Guinea and Nauru stepping in to lend a hand to the SPC administered trainer.
Vanuatu has a trainee trainer, Manu Nimoho, facilitating the training of 5 new Fisheries Observers at the Lolam House in Port Vila.
Fiji also has 5 new Observers, along with Samoa, Tonga and Nauru participating in the Zoom online conferencing ROP training.
Vanuatu Fisheries Observer Coordinator, John Mahit James stated that the training is scheduled for 15 days, beginning on November 30 and will end on December 18, 2020.
"After the completion of this 3 weeks ROP training, there will be another 4 weeks training on Sea Safety, Intermediate firefighting, First Aid, Radio and Navigation, which will be held in Santo at the VMC, from February 2021."
James would like to thank SPC and FFA for facilitating this training that will increase the numbers of Fisheries Observers in Vanuatu from 53 to 58 in total.
Fisheries observers are deployed to serve on various fishing vessels to monitor and collect compliance and scientific data.
This data comprises of fishing gear type, fishing locations, fishing effort, catch type, weather conditions, infringements if any and any other useful information.
This valuable data is then used by Fisheries Managers to make sound management decisions in each respective fishery.