First national e-commerce symposium next month
June 24, 2021 3:17 am | Posted in Business News | Share now TwitterFacebook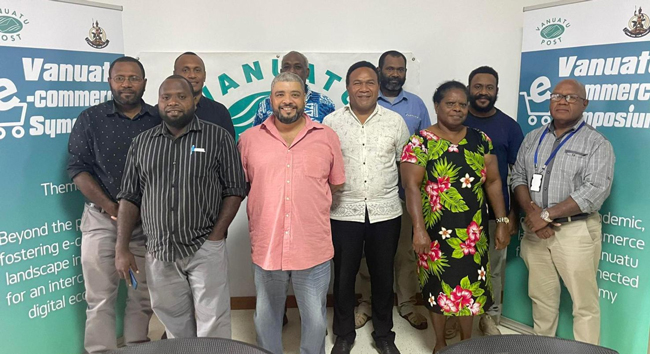 Vanuatu Post Ltd will be organising the first national e-commerce at the Convention Centre in Port Vila from July 8 to 9, two weeks from today.
The e-commerce symposium logo, banners and the program have been launched. Chairman of the Vanuatu Post Ltd, Daniel Faivre said, "COVID-19 has changed the broader landscape of Vanuatu's economy.
"There is significant reduction of trade between Vanuatu and other countries, substantial loss of income for both private and public sector, productivity decrease in state owned enterprises, private sector, and a sharp fall of personal income.
"COVID-19 has created a new normal in which e-commerce has become the forefront minds from all trades.
"At Vanuatu Post Ltd, our board and our shareholders have decided to ensure that we continue to generate revenue, we must diversify our business model using the internet and encourage businesses to trade online.
"In order to achieve that, we must collaborate with other stakeholders like the Ministry of Trade, Vanuatu Chamber of Commerce, V-Lab and various private sector players that share the same goals with us towards Vanuatu's e-commerce roadmap."
Coordinator of the two-days event, Fred Samuel, said technological transformation has impacted economy growth globally.
"It's easier to trade with the current rise of Information and Communications Technology (ICT). Countries around the world are embracing online payments over cash," he said.
"In Vanuatu, we've seen changes in the trend since the liberalising of the telecommunication market over 10 years ago. Since then, we've slowly seen improvement in terms of access and broadband technology "
'Beyond the pandemic, fostering e-commerce landscape in Vanuatu for an interconnected digital economy' is the theme for the symposium.
The e-commerce symposium favors the government trade policy framework and its e-commerce strategy, said Faivre.
Vanuatu Post Ltd will be organising the event with partnership from the government, through the Ministry of Infrastructure and Public Utilities (MIPU), Ministry of Tourism, Trade, Commerce and Ni Vanuatu Business (MTTCNB) and the Ministry of Finance and Economic Management (MoFEM).
MIPU, MTTCNB, MoFEM, Office of the Government Chief Information Officer (OGCIO), Telecommunications Radiocommunications and Broadcasting Regulator (TRBR), Computer World, 83 Distillery, Vodafone and Reserve Bank of Vanuatu (RVS) are some of the first sponsors for the event.
Businesses, senior school students, government departments dealing with trade and production and members of the public are encouraged to attend the event and listen to high level panelists.
The e-commerce symposium is expected to become an annual event.