Digicel and VBTC seal Milestone Deal
March 4, 2021 12:25 am | Posted in Business News | Share now TwitterFacebook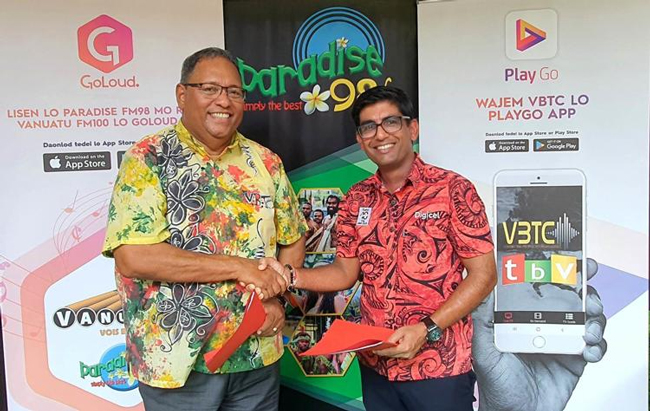 Digicel and Vanuatu Broadcasting and Television Corporation yesterday announced a major partnership which will see VBTC bringing its television channel and radio stations direct to Digicel customer's mobile device.
The partnership is a first of its kind for Vanuatu and will see local channel — Television Blong Vanuatu (TBV) added to Digicel's PlayGO mobile app. The streaming service boasts 23 channels and includes sports, popular TV shows and educational shows.
In addition, radio stations Radio Vanuatu, Paradise 98FM and Femme Pawa 99FM are now available on Digicel's GoLoud mobile app.
VBTC CEO, Mr. Francis Herman, said; "After months of planning and testing, we are thrilled with the outcome of our platforms integration and thank Digicel for their collaborative approach in bringing our news and entertainment broadcasts direct to people's phones."
Digicel Vanuatu CEO, Deepak Khanna, commented; "Digicel delivers innovative technologies that improves the lives for its customers. As the leading digital operator in the market and a global communications provider, Digicel are delighted to be partnering with Vanuatu Broadcasting and Television Corporation in this venture in providing consumers direct access to TV and radio content on their phones. Customers simply have to opt-in to a Prime Awesome plan to listen to and watch their favourite content from anywhere in Vanuatu."
In February, Digicel announced that all matches from the 2021 Super Rugby Australia, Super Rugby Aotearoa and the new Super Rugby Trans-Tasman will be shown live on Digicel TV and PlayGO mobile app this season.