4 graduate from V- Lab's first business incubation programm
March 8, 2021 3:44 am | Posted in Business News | Share now TwitterFacebook
By Charles Hakwa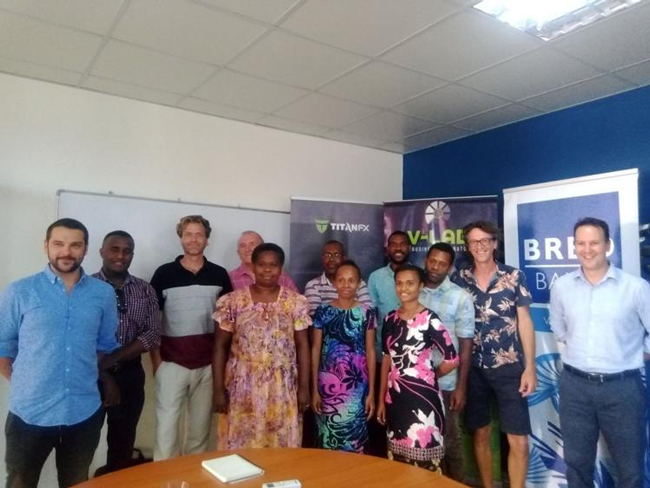 V–Lab has been giving business incubation coaching program to four entrepreneurs for a year and last Friday they closed their training.
The trainees went through coaching while managing their businesses and presented themselves to show how far they had come.
Roy Harry
Roy Harry that owns GPS Vanuatu says since January last year, he has equipped 55 cars with a GPS system. John says marketing, finance management and decision-making are what helped him grow his business.
Harry feels that the business coaching helped him gain confidence and now he presents himself well in public.
He feels he needs a bit more accounting training, especially in VAT returns.
Harry has been able to employ a staff of one, who gives quality service. He also says he has managed to outsource some configuration and installation.
Cash flow is still a major challenge with his business, he said.
Harry also runs an electrical company, Pacific Tech Electrical, which he says did not perform well at the start, however it has improved since July last year, thanks to V–Lab.
With the electrical company he says unpaid invoices by customers are a burden as that also makes it hard for him to pay his bills.
Harry hopes to have a permanent office and also recruit an agent on Santo, as well as a full-time manager. He currently has 5 staff for Pacific Tech Electrical.
Pacific Tech Electrical currently has currently 5 contracts they are working on, one of which is the correctional facility at Stade.
Harry is happy to employ people as that way he gives them an opportunity to support their family.
Harry thanks V–Lab for everything, especially their training on advertisement as that was what brought in more customers.
Vincent Ben
Vincent Ben who owns Lokol Praes, thanks the V–Lab team and the sponsors for everything. Ben believes there should be more activities for incubees to learn from each other. He also feels there should be more visits during trainings to businesses of similar nature to see how they are doing and learn how they started and grew.
Lokol Praes was established in late 2019, and slowly grew to success in early 2020, however things didn't go well as people could not pay upfront and with a failed investment on Malekula, sales dropped.
Despite this little downfall, Ben feels that he is getting back now that he has an extended product range which includes kitchen utensils and jewelry which he imports from New Zealand. He employs two part-time staff and he will soon launch an e-commerce website and also have payment options available through Bred Bank, National Bank of Vanuatu and Vodafone's M-vatu system.
Ben is now optimizing with local shipping companies to secure deals with the best ones to deliver the goods to his customers throughout Vanuatu. He prefers sea transport as he says, Air Vanuatu is too expensive and with sea transport, the ships cover more of Vanuatu than planes.
Jack Kalsarap
Jack Kalsarap and his wife Mary, are part of Mama's Life Vanuatu who manufacture reusable nappies for babies and reusable menstrual pads for the ladies.
Mr. Kalsarap says they support women to take control of their own lives. He says he has really learnt a lot from V–Lab over a year as the coaching taught him a lot.
He says V–Lab taught him well on how to present himself and his products to people of all walks of life.
Mr. Kalsarap says one thing V–Lab should do in future is to individually assess each business individually in the beginning as all businesses are different in nature.
Kalsarap says he enjoyed learning from other business people and says V-Lab should encourage international partnership in future.
He says 2020 was a good year for them as they travelled to the Torba Province to showcase their products.
Kalsarap believes that with more donor funding, the Nappy Pilot with Bambino Mio and Savvy should be a success.
He says tampon orders increased after tropical cyclone Harold and with the COVID-19 outbreak, they also manufactured face masks.
Kalsarap says consistency of staff is something he would like to keep. He also aims to establish more regular customers. It is also a big wish of his to see the government ban disposable diapers one day.
He wants to get a bigger site in the near future and more equipment for mass production as he hopes to expand to other islands of Vanuatu. He appeals to the government of the day to upgrade local businesses so they can in turn grow the economy of the country. With that being said, he is also appealing to the government to sponsor a machine for mass production.
Rebecca Bogiri
Rebecca Bogiri who owns Isi Kakai, says the three important things she learnt from V-Lab as an incubee are price strategy, the benefits of having a coach and how to make use of social media to market products.
Bogiri encourages future trainees to understand their own pace, be willing to try new things and to always make use of all resources at their disposal.
If she were to do this training again, she would like it to allow incubees to determine content of trainings prior to training delivery so it is responsive to their needs. She would also like it to be for a shorter period, so it can maintain momentum. Best period is between March and October.
She would also like the program to include training needed by SMEs transitioning into sustainable businesses in areas like: VAT basics, understanding the loan process, writing business plans and project proposals.