Crave celebrates 8th Anniversary
June 25, 2022 9:56 pm | Posted in Business News | Share now TwitterFacebook
By Josepheen Tarianga.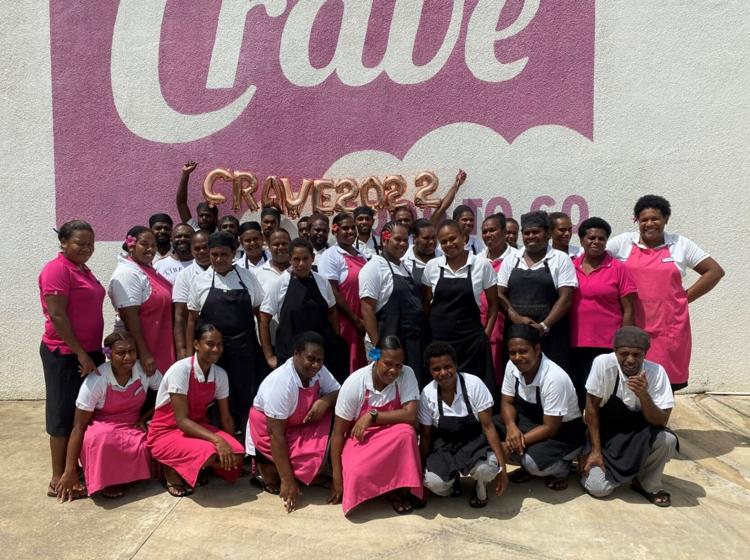 Crave Food to Go celebrated its 8th anniversary in Vanuatu on Tuesday this week.
"The Crave team was a big part of the success in running Crave for the last eight years," said Crave Manager, Sophie Leong.
Crave opened its doors on the 21st of June in 2014. The Bakery brought together different concepts to create something special, with the feel and look of an Australian style cake shop but including other successful food concepts such as Subway, Wendy's and Boost, said Leong.
The bakery offers both sweet and savory treats with some healthy options such as freshly made sandwiches, paninis, wraps and salads. For those with a strong liking for sweet foods, it also provides a selection of cakes, doughnuts and ice cream as well as create unique products for specific occasions like independence, Easter, Christmas and Mother's Day.
"Crave supplies to the entire local market and appeals to all nationalities. Our products are purchased by other hospitality venues through our wholesale program," Ms Leong said.
Crave was the first shop to offer a made to order sandwich bar. With an extensive menu, Crave also makes freshly made juices and smoothies and hot pies.
"Customers constantly remark about our fabulous sliced bread. We take pride in the consistency and quality of every loaf," Leong added.
The past eight years have not been without challenges.
"These days, the biggest challenge for Crave is to maintain quality whilst still offering value, and this is challenging due to the rapid rise in prices of ingredients," Leong said.
Crave has big plans to expand its venue, continue increasing market share through their product review program and introducing new and improved menu items regularly.
"So far, our most rewarding experience with the business relates to our staff our team of 30 Ni-Vanuatu," Leong shared.
"For many of our staff this is their first full time job, but they continue to amaze us with their energy and drive.
"We feel honoured to have sustained the business so far for eight years, particularly through the recent COVID-19 period. We acknowledge the importance of our team in being a big part of that success."