3rd Through the Lens Film celebrates Vanuatu Tourism Office CEO
June 25, 2022 9:52 pm | Posted in Business News | Share now TwitterFacebook
By Josepheen Tarianga.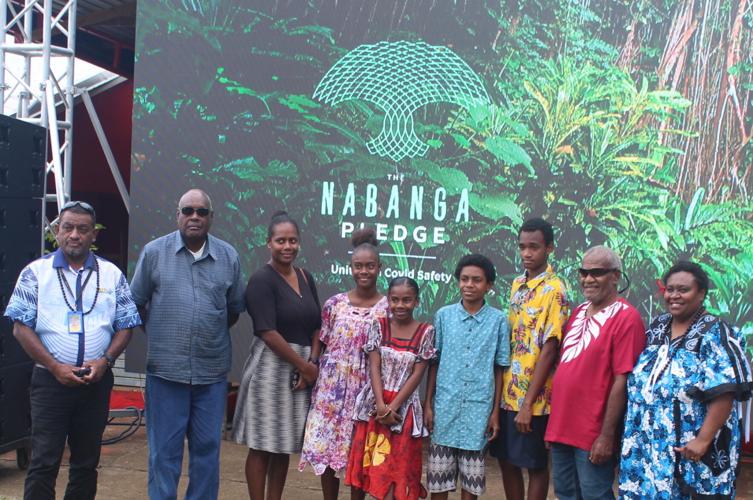 The launching of the Nabanga Pledge on Wednesday this week was accompanied by the launching of the third 'Through the Lens' film, celebrating the life of Adela Issachar Aru, the Chief Executive Officer (CEO) of the Vanuatu Tourism Office (VTO).
The Australia funded program, Balance of Power, uses an innovative approach to help Vanuatu achieve gender equality and inclusive governance. It works with both men and women to recognise and legitimise women in leadership, stated Wilson Toa, the Country Manager for Balance of Power.
"'Through the Lens' is our main activity, it is a documentary series in which we will follow the stories of ten women in Vanuatu. We have already launched two films and this is the third," said Mr. Toa.
Mrs. Aru expressed at the launching that the film was dear to her as it is dedicated to her mother, who took part in the making of the film but has since passed.
The film was put together by local creators, with Francis Malcolm Wai as the head creator. It tells the story of Aru's upbringing, her life challenges and her strong role as the CEO of VTO during the pandemic.
"A lot of times in Vanuatu we look at our leaders and think they had an easy life to get where they are, working with CEO Aru we really got to see that for a lot of leaders, it was not easy. We are glad to tell her story," says Mr. Wai.
"We want this story to inspire young girls and mothers in communities to strive for their dreams."
"Mrs. Aru's story has the power to make a change in the community," stated Heidi Bootle, the Australian High Commissioner to Vanuatu.
"She is a strong leader. Even though she faced a challenge like we have never experienced before, she stood strong in doing her job to support the tourism industry of Vanuatu and she is doing a big job in helping the country prepare for the opening of the international borders.
"We thank Mrs. Aru for sharing her story with us."