COI Appointed
December 22, 2020 10:40 pm | Posted in Business News | Share now TwitterFacebook
By Godwin Ligo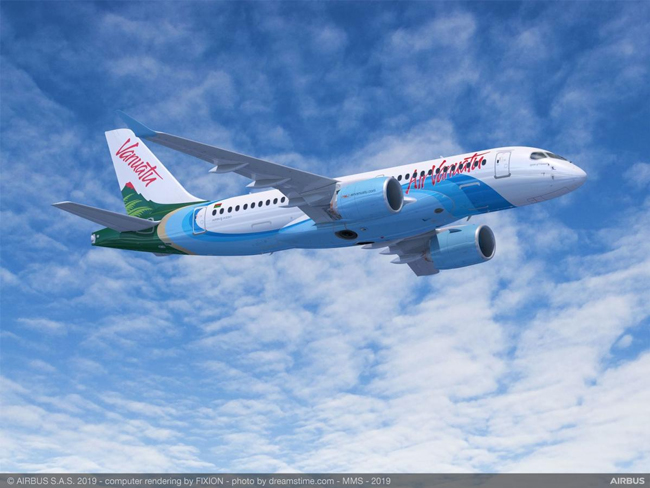 The Commission of Inquiry (COI) into matters relating to Air Vanuatu's A220 Fleet Purchase, was appointed yesterday afternoon.
The appointment of the eight Commissioners of Inquiry was made by the Minister of Justice and Community Services, Esmon Saimon, in exercise of the powers conferred on him by subsections 1 (1), (2), (3), section 5 and subsection 12(1) of the Commission of Inquiry Act [CAP 85].
The Commissioners of Inquiry are: John Path, Chairman of the Commission; Sofia Shah, Assessor; Jimmy Andeng, Secretary; Robert Bohn, Commissioner; Sakiusa Kalsakau, Commissioner; Albert Nalpini, Commissioner; Betty Kalorisu, Commissioner; and Joseph Niel, Commissioner.
Shortly after taking their oath, the members of the Commission, began their first meeting to plan and implement the tasks before them.
In his remarks, the Minister for Justice Esmon Simon, congratulated the Commissioners on their appointment, on behalf of the government and the people of Vanuatu. He reminded them that the period they have been given to completed the inquiry, have the report presented to his office and be ready to be tabled in parliament, is three months.
"The Government expects the report to be completed by the end of March 2021.
"The extra time you will be allowed will be end of April, but the expected time frame for the Commission of Inquiry report to be ready to go before parliament is end of March 2021," Minister Saimon told the Commissioners.
In his response, the Chairman of the Commission of Inquiry, John Path, assured the Minister, the Prime Minister, and the government that the Commission of Inquiry report will be completed in accordance with the terms of the reference given to the Commission.
"On behalf of the Commissioners, I wish to thank the government of Vanuatu for the trust you have in each of us.
"The task is not easy, but we are undertaking this for the interest of the people and the nation of Vanuatu.
"As a former Auditor General, I understand the responsibility entrusted upon us and assure the government that we will deliver the report within three months as expected of us," he assured the Justice Minister and the government.
The budget for the COI is Vt10 million and the COI will operate from the offices at the Ministry of Justice and Community Service.