CCECC supports academic programs
September 25, 2021 11:40 pm | Posted in Business News | Share now TwitterFacebook
By Jason Abel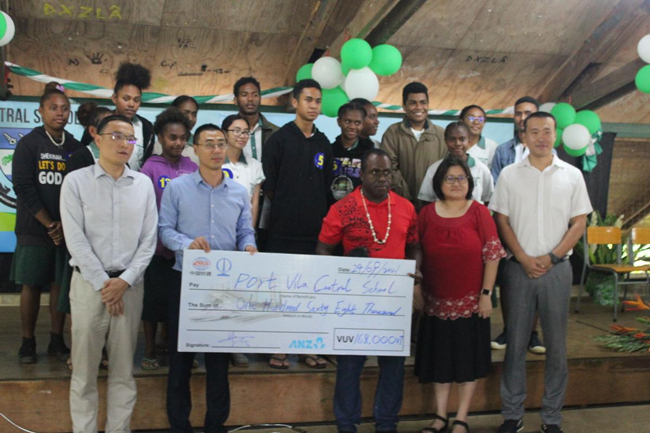 The China Civil Engineering Construction Corporation (CCECC) yesterday sponsored the Central Secondary School (CSS) Chinese cup speech competition, with a total of VT168,000 towards the prize awards.
CCECC is well known for major infrastructure projects in Vanuatu and is venturing into the educational sector to support Ni-Vanuatu students studying Chinese language in CSS.
The cooperation saw CCECC assisting the first, second and third place prizes by sponsoring each student with school fee payments for one school term.
CSS Principal, Mr George Willietien said that students are realizing the opportunities and are showing their interest.
The Chinese cup speech competition saw 14 participants taking up the stand and presenting a speech in mandarin. While CSS is the only secondary school engaging in Chinese language classes within its curriculum, the government has also opted to implement the program into all government schools as well, if requested.
CSS Chinese class teacher, Mr. Chao said the academic program is getting better each year and he is proud of the students' motivation. He added that with the China government providing scholarships in Chinese language, the course will enable students to speak fluent Chinese in advance before attending studies.
All students were judged under six criteria: appearance, message, tone, speech, crowd, and understanding by a CSS teacher, CCECC officials and the Chinese Embassy counselor, Jiang Pu.
CCECC Director Liang Qing acknowledged all participants for their courage to participate.
"I am pleased to see how you all demonstrated your remarkable learning abilities," he said.
"This is the second speech competition since CSS establishes sister relationship with the Beijing Yangfangdian Central school. The importance goes beyond the competition itself. It will promote international communication and progress more opportunities in your life.
"The competition is important for students to experience Chinese cultures, language, and the system of teaching.
"I wish all students the very best in the future."
Counselor Jiang applauded participants, adding that the Vanuatu government is looking in signing an agreement in implementing Chinese language classes in all government schools.
He stated when borders reopen, they will assist students in educational trips and scholarship programs to China.