AUF providing options to decrease unemployment
February 23, 2022 9:13 pm | Posted in Business News | Share now TwitterFacebook
By Josepheen Tarianga.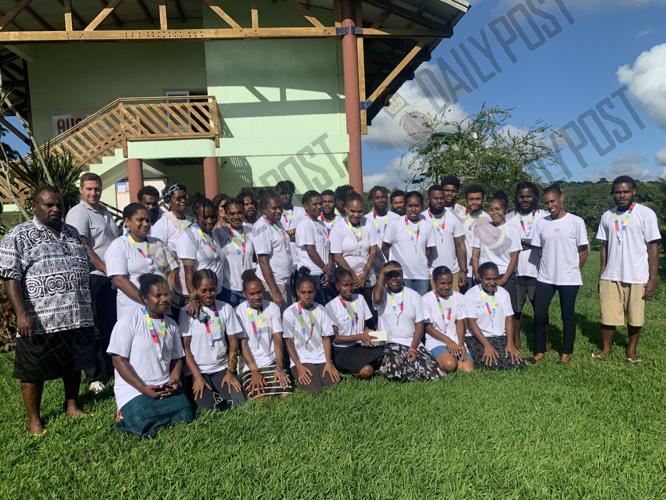 Agence Universitaire de la Francophonie (AUF) and the Breadfruit Consulting company have taken an initiative to organize a two-week workshop to teach students how to start their own businesses, commencing yesterday.
The workshop teaches everything from forming the idea behind the business to developing a realistic business plan. All will be presented at the AUF open day on the 8th of March in front of a panel of judges.
The entrepreneur workshop is the second of its kind as the first was held in Malekula last year with several locals interested in starting start their own businesses.
The entrepreneurship workshop was open to all AUF, National university of Vanuatu (NUV) and The University of the South Pacific Students (USP).
Joel David is owner of Namba 1Business Consulting and a trainer for the workshop.
He explains that 18 students were selected form the 3 institutions during Ideation, an introductory class that over 30 students had attended in the last week. Identified problems in the Vanuatu society and helped come up with business ideas to act as solutions to these problems with the help of the workshop trainers.
"Following the ideas presented in front of a panel of judges, several groups were chosen to participate in the workshop, overall a total of 18 students," says Mr. David.
"Some students participating have degrees and Masters. Some are almost through their Masters and still cannot find employment."
President of the NUV student association, L. Aurelien is participating in the workshop and shares that with the current COVID-19 situation, finding employment has become harder than before. This workshop is pushing another narrative.
"This workshop is teaching locals that they can start their own businesses. You really see a gap when it comes to locally owned businesses. Creating our own businesses in the local market can help us through such situations."
Jeremy, another student participating in the workshop states; "More locals need to participate in such workshops. There are so many problems in our communities that we can make solutions for in business form. Learning how to start our own businesses is how we can do it."
Mr. David says that despite some of the workshop participants being highly educated, finding jobs has been hard so many students recognize that starting a business could be the way to go.
The AUF Director, Chandra Maisonnier says; "With the success of the first workshop we are very pleased to host this workshop. The students have shown great interest in the workshop and respond positively to it."