270 Ni-Vanuatu registered through Tourism Labour Desk
June 18, 2022 10:49 pm | Posted in Business News | Share now TwitterFacebook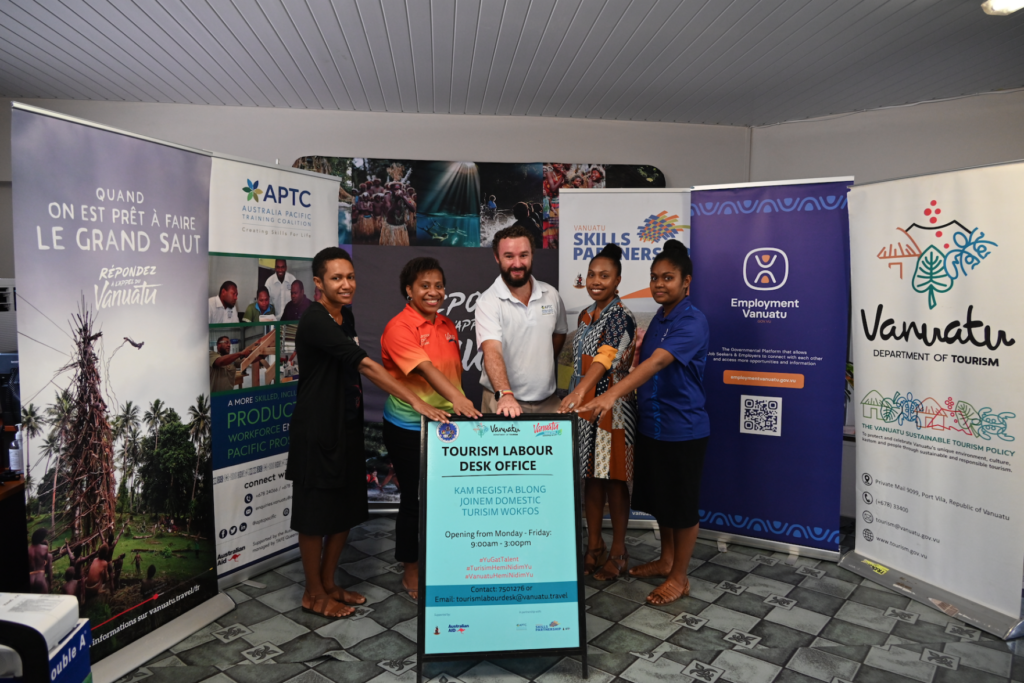 Since the establishment of the new Tourism Labour Desk Office, over 270 Ni-Vanuatu citizens have registered through the office.
The new Tourism Labour Desk Office supported by the Vanuatu Skills Partnership (VSP) and the Australia Pacific Training Coalition (APTC) through funding from the Government of Australia in collaboration with the Vanuatu Tourism Office (VTO), the Department of Tourism (DoT) and the Department of Labour (DoL), was opened on May 13, 2022.
During a site visit by partners to the Tourism Labour Desk, they were informed that registrations have been progressing well.
Students who have graduated from the Vanuatu Institute of Technology's preparatory workshops have also registered their newly-found skills. While ninety percent of registrations are females with various levels of experience, males are continually encouraged to register their skills as well.
In addition to registrations, the Desk also serves its purpose to match skills to job vacancies as a strategic way to support the Vanuatu Government's efforts to address the growing challenges identified by the industry to address the shortage of skilled workforce in Vanuatu's tourism and hospitality sector before the border re-opening.
VSP and APTC are pleased to collaborate with the Vanuatu Government through DoT and VTO to ensure necessary office equipment and facilities are available in the office.
APTC Country Director for Vanuatu and Nauru, Nicholas Venables, said APTC will always be committed to supporting avenues to upskill and improve the employability skills of Ni-Vanuatu for better employment opportunities.
"We are proud to be supporting this initiative. Skills help drive employment, business and economic growth in each country," he said.
The Director of VSP, Fremden Yanhambath, confirmed his organization's long-term commitment to supporting the local tourism industry.
"The Vanuatu Skills Partnership has supported numerous initiatives with VTO, DoT and APTC in the past and this new development shows the strength of the partnership to work to achieve our shared vision for a vibrant local Tourism sector," he said.
The CEO of VTO, Mrs. Adela Issachar Aru, Ms Geraldine Tari, Acting Director of DoT and the Commissioner of Labor, Mrs. Murielle Meltenoven, thanked VSP and APTC for their continuous efforts in supporting opportunities for skills development and local business growth in Vanuatu's Tourism and Hospitality sector in strengthening the domestic labor market for Vanuatu.
Individuals interested in working in the sector are encouraged to come forward and use the new Tourism Labor Desk to access valuable information in relation to training and employment opportunities. The opening hours for the office will be from 9am to 3.30pm from Mondays to Fridays.
The new office space is located behind Goodies Office close to the Island Time area in Port Vila. It accommodates Tourism Labour Desk Officers who coordinate registration of tourism workers, and facilitate training links to training providers to help the creation of a tourism and hospitality ready-pool workforce.