2022 Vanuatu National Agriculture Census and Business Establishment Census Launched
February 27, 2022 11:21 pm | Posted in Business News | Share now TwitterFacebook
By Adele Willie.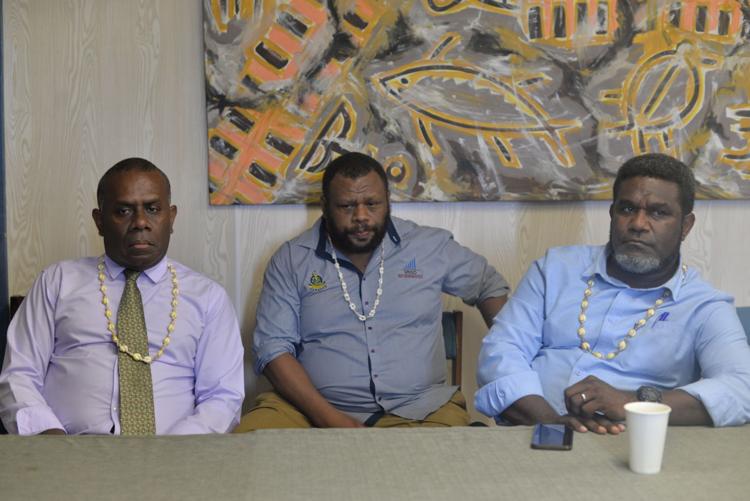 The launching of the Vanuatu National Agriculture Census and Business Establishment Census took place at the Vanuatu National Statistics Office (VNSO) at Independence Park, yesterday.
Attending the official launching of the Vanuatu Agriculture and Business Establishment Census was Minister of Finance and Economic Management Johnny Koanapo Rasou, Minister of Agriculture, Livestock, Forestry, Fishery and Biosecurity (MALFFB) Willie Daniel Kalo, Directors General of the two Ministries, the Acting Director General, Development Partners, UN, NGO and staffs within the MALFFB and the VNSO.
The Government Statistician (GS), Mr. Benuel Lenge, stated that the Business Establishment Census is the first of its kind to be launched in Vanuatu this year whereas the Agriculture Census was first introduced in 1983, then first launched in 2007 which took 15 years this year, 2022, for the second Agriculture Census.
Mr. Lenge said that these two projects should have been launched two years ago, but due to the pandemic, it was delayed until this year, for the project top be launched.
"The Government has big plans in the production sector, and at the moment we are planning on a new technology system that will be using the satellite image, that VNSO will get the full support from EDF11," said Lenge.
The Vanuatu National Agriculture Census theme for this year is "Collecting quality primary data to Build a Stronger Economy".
The Business Establishment Census theme for this year is "Empowering business Through Data".
Chairman of the Agriculture Steering Committee, Antoine Ravo, said that since 1980, Agriculture is an area that plays a very important role in the lives of the people of Vanuatu therefore the chairman acknowledged the efforts of past governments for their contributions towards the development of the agriculture sector in the country.
Ravo said that with the COVID-19 challenges, this launching was a proud moment for the government, the development partners, the farmers, and the people of Vanuatu.
Minister Willie Daniel Kalo said that the theme of the Agriculture Census reflects the policy and plans for the current government before officially launching the National Agriculture Census yesterday.
Kalo also acknowledged the developing partners and the Ministry of Agriculture and at the same time, declaring the 2022 Vanuatu National Agriculture Census official launching.
Minister responsible for VNSO, Mr. Koanapo, congratulated the director and every staff of VNSO for their commitment.
He believes the agriculture census can be done on time, so the government can oversee it.
Mr. Koanapo also launched the Business Establishment Census.
Daily Post spoke with Jimmy Tamkela who is the Vanuatu National Agriculture Coordinator and he said that it's quite challenging for him to coordinate this project with the help of MALFFB to implement the census.
James Temakon, the Business Establishment Census Coordinator, said this is a new area to work on, and when it comes to technicalities and publicity it's a very challenging one. But it's quite an experience that took him about eight months to work on.