Does Vanuatu need an international airline
April 3, 2021 3:39 am | Posted in Features | Share now TwitterFacebook
By Charles Hakwa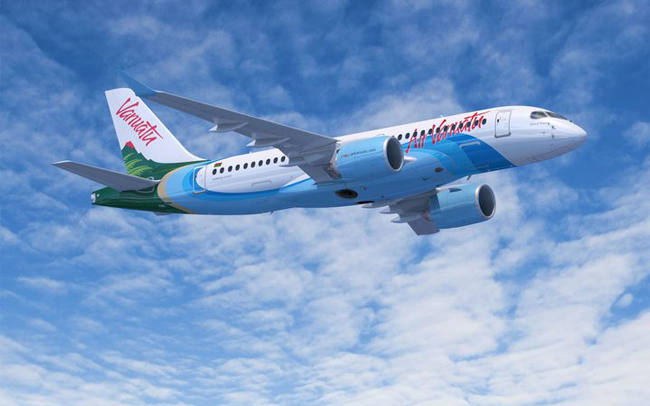 Recently Air Vanuatu has been in the spotlight regarding the financial difficulties our national airline is facing. Let us now look at the airline closely and see what keeps it going on a daily basis.
With the domestic network, locals will always be here and will always fly between Port Vila and their home islands, so the domestic market will always be lucrative since there are no other airlines of similar capacity as Air Vanuatu, flying domestic routes.
Internationally, this is a different picture.
Since Covid 19, borders were closed and therefore no tourists came to our shores. The airline depends on tourism as the main income from international flights. Anyone who visited the international terminal pre Covid 19 would see that most passengers arriving were tourists compared to seasonal workers and travelling locals.
The cancellation of international flights have caused a major loss for the national airline. These days the only international flights are cargo flights and charters for seasonal workers and students. Cargo flights on the Boeing 737-800are not very economical as only the low cargo deck is filled while the top area is empty as the aircraft is not designed to be quickly converted into a freighter to make use of the opportunity like other aircraft such as the smaller Boeing 737-700 Quick Change.
So what can be done to save the national airline?
Selling Shares
In recent article in the Daily Post, Howard Aru CEO of Vanuatu Foreign Investment Promotion Authority [VFIPA], said the airline needed to create partnerships to keep it afloat.
Aru gave the examples of the National Bank of Vanuatu which sold shares to VNPF and the International Finance Cooperation. He claims that has kept the bank in line.
Aru also gave another example of Fiji Airways. He says the Fiji government own 52 % while QANTAS own 48%. He says these shares owned by QANTAS are what helped Fiji Airways to grow and bring more tourists to their shores.
So could having shareholders be a way to carry on?
Underwriting
Coming back to the difference in international and domestic flights and Air Vanuatu's dependence on tourism for its international flights, we must now ask ourselves a big question.
Does Vanuatu need an international airline?
Let us take a look at the Cook Islands.
The Cook Islands are similar to Vanuatu in a sense that they have a tourism based economy and that most of their arrivals from overseas are tourists.
One thing that is different is that the Cook Islands do not have an international airline. Air Rarotonga just flies domestically between the islands.
According to a study in 2013 done by Aaron Schiff of Covec Ltd based in New Zealand, on behalf of the Cook Islands government, he found that there were
a lot of benefits in underwriting flights done by Air New Zealand.
The terms of the underwrite agreements are cost-based. The government guarantees that Air New Zealand will cover all costs of the LAX-RAR service, and will make a 10% return on costs of the SYD-RAR service. Such cost-based arrangements are known as "low power" procurement contracts as they give the provider weak incentives to reduce costs and maximize revenues in order to minimize any deficit.
In addition, the underwrite agreements expose the government to risk as the annual amount of the Underwrite payment is open-ended and affected by factors beyond its control such as aviation fuel prices.
This report analyzed the economic benefits and costs of the agreements to underwrite Air New Zealand's non-stop services between Los Angeles and Rarotonga (LAX-RAR) and between Sydney and Rarotonga (SYD-RAR). These agreements were estimated to cost the Cook Islands $7.7 million and $4.4 million per annum respectively.
In comparison, this would be cheaper than what our government spends to keep Air Vanuatu out of debt.
In the economic analysis done by Covec Ltd, Some visitors arriving on the underwritten flights travel beyond Rarotonga to the outer islands. To the extent that people and businesses in the outer islands contribute less than those in Rarotonga to the cost of the underwriters, the policy partially acted to redistribute economic activity from Rarotonga to elsewhere in the Cook Islands.
Here in Vanuatu, we can already see that Air Vanuatu's domestic is more economical than the international market so if the Vanuatu Government, made a decision to underwrite flights from Virgin Australia, QANTAS, Air New Zealand or Jetstar and link Port Vila up with Auckland, Brisbane and Sydney, Air Vanuatu could concentrate more on the domestic sector.
With a well-developed domestic sector, more tourists could travel out of Port Vila to the other islands just like in the Cook Islands where Air Rarotonga earns a high income from transporting tourists across the islands.
Using data on arrivals on the underwritten flights in the Covec Ltd report, matched to data on domestic travel within the Cook Islands, they estimated that around 25% of visitors arriving on NZ60 and 27 NZ19 travel to Atiu or Aitutaki.
Of these visitors, around 10% were using Air Rarotonga's day tour flight to Aitutaki. The remainder stayed for one or more nights in the outer islands. Under the 'expected' scenario, this suggests the LAX-RAR underwrite makes a net contribution of around 2,000 visitors per year to the outer islands, and SYD-RAR makes a net contribution of around 750 visitors per year.