Is the cruise industry in jeopardy or showing resurgence?
April 25, 2020 7:03 am | Posted in Opinions | Share now TwitterFacebook
The future of the cruise ship industry in Vanuatu looks gloomy as the nation faces the double blow of the global COVID-19 pandemic and devastation wreaked by category 5 Tropical Cyclone Harold.
Fortunately, until now, the nation is fortunate to avoid the confirmed cases but the risk of transmission prevails due to weak health infrastructure and vulnerability. The hospitality and tourism sector that constitutes 40% of Vanuatu's GDP is perplexed to find ways to reduce its losses as the number of tourists is reduced due to the suspension of cruise ship visits and suspension of international flights. This article highlights the issue of the cruise ship industry amid the COVID-19 outbreak and thereafter.
More test Positive: No Medical checks as passengers told to disembark in Sydney (FT, 1/4/2020) raises a question of how passengers aboard the Ruby Princess cruise ships were allowed to disembark at Sydney Harbor with some showing signs of virus (23/03/2020, BBC.com). Speculations over the future of cruise ships are made, as many believed it to be potential virus carriers; they are associated with providing a perfect petri dish environment for a virus. Under the threat of COVID-19, many nations have banned cruise ships entry to partially curtail the possibility of an outbreak in their nations, and many nationals from virus infection nations are not allowed to disembark. Cruise ships are bouncing around the world by denying them entry into ports, the current report states ports have been closed (partially or fully for temporary barring); some ports are selectively denying visitors while other ports are turning cruise ships away (Cruisecritics.com, 14/03/2020). The debate over the banning of cruise ships due to the COVID-19 threat is in the limelight, I had predicted the declining state of cruise ships in Fiji as well as the Pacific Islands earlier (fbc.news).
Overreactions
Pro-cruisers have claimed this issue is exaggerated due to a lot of misinformation on social media, raising the question of "Are Pacific countries overreacting?" (abc.net.au/news). Furthermore, cruises bring cruisers, money and enhance tourism economics in the nations they visit. Overreactions will certainly leave a legacy to hamper the cruise industry. Nevertheless, pro-cruise liner claims the cruise industry is buoyant despite the negative coronavirus PR, as it expects to keep growing in 2020 and anticipates an increase in more cruisers than last year (https:// www.dw.com/en/cruise-industrybuoyant-despite-negativecoronavirus-pr/a-52566418). Moreover, many ships continue to operate normally around the world.
After the COVID-19 confirmed cases on Diamond Princess and The Grand Princess, critics have called the cruisers as a breeding ground for infections or incubators for coronavirus, or "a boiling pot of transmission" (BBC). The struggle between cruisers industry and critics to bound to happen as both have their premises to argue their respective arguments.
Cruise Ship Capitalism
Once WHO declared a global COVID-19 pandemic, "cruise companies like Carnival and Royal Caribbean continued offering bargain-basement deals and flexible cancellation plans incentivizing vacationers to keep cruising despite the risk of spreading the virus", some even went to the extent using all unethical measures to sustain like '"Norwegian Cruise Line employee showed a manager pressuring sales staff to lie to potential customers about the risk of the virus, telling them, for example, that "the coronavirus can only survive in cold temperatures, so the Caribbean is a fantastic choice for your next cruise" (Allen Brown: https:// theintercept.com/2020/03/14/ coronavirus-cruise-shipscaribbean/).
Brown explained the Trump administration gave special aid to the cruise industry in the wake of the COVID-19 crisis, due to "cruise lines' intense lobbying efforts and close relationships with the Trump family". The author highlighted Ross Klein's (maritime tourism expert) view about cruise industry's response to the crisis is business as usual, as "the cruise industry always wants ports to know, 'We're mobile, so if you get out of line, there's plenty of ports that will welcome us', the ships operate under 'flags of convenience', basing themselves in whatever nation gives them the best deal" (Ibid). Klein even stated IMO "sets international regulations that have no standing and no enforceability".
Tanya Snyder (politico.com) stated "the cruise industry is insulated by ship registrations in foreign countries and shielded by a powerful lobby with sway in tourism-dependent U.S. states like Florida"; while explaining why the U.S. can't touch cruise liners because whenever lawmakers have tried to get tougher on creating more requirements for cruise ships to dock in U.S. port, this wealthy industry pushes back hard and cruise lines spend more than $3 million a year on lobbying (Ibid) thus it is difficult to bring this industry under the high-end radar of restrictions.
Fascination to Cruise: Revival
For some cruisers, the lure of seas remains more powerful than the fear of COVID-19 (Penzenstadler & Cava, USA today). They described some cruisers who decided to continue their trip as being healthy, not cancelling flights, and are ready to prepare to self-quarantine and work remotely upon return if necessary (Ibid). Although, the cruise ship industry is going through a rough period, a revival is bound to happen. But the timeframe and way to recover cannot be predicted now. Andrew Coggins, a clinical expert, stated "fear is a cruise company's chief enemy…it is probably more psychological, especially when the government comes out and says 'Don't take cruises.'" (Tate, Gilbertson & Hines, usatoday. com). They noted Senior equity's analyst prediction that this virus will impact the industry this year and it is likely that things will return closer to normal in 2021″ (Ibid); others claim recovery may take six months to a year and it may be longer if the situation continues to worsen. The legacy of the virus will continue to a particular timeframe that will be eroded after things come under control. Globally, the foremost priority should be to safeguard the health of cruisers and nations they docked, while simultaneously finding possible solutions and remedies to come out of this crisis. As such, the question whether cruise liners are moving towards jeopardy seems valid, but the possible resurgence and virus legacy that matters the most to catch up to is the earlier profit margins in Vanuatu and overall Pacific Islands.
---
This is an "opinion piece" and not the opinion of the publisher
---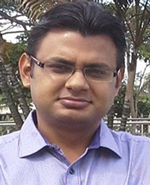 Disclaimer:
Dr Sakul Kundra is an assistant professor in history at the College of Humanities and Education of the Fiji National University. The views expressed are his own and not of this newspaper or his employer.

For comments or suggestions, email. [email protected]