WanTok First AelanSat Retailer in Vanuatu
June 25, 2022 10:08 pm | Posted in Business News | Share now TwitterFacebook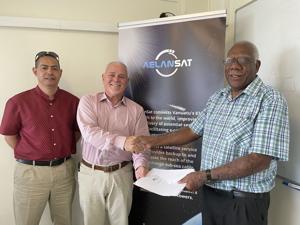 Telecommunications company WanTok has signed a service agreement with Interchange Limited (ICL) to become the first retailer in Vanuatu to offer the new satellite service AelanSat. Individuals and businesses will soon be able to purchase through WanTok high-speed internet packages via satellite dish from any island in Vanuatu without having to rely on proximity to telecommunications towers.
"We are delighted to add a satellite option to our range of trusted products," said WanTok CEO Mr. Justin Kaitapu. "The AelanSat service will push the WanTok network to rural areas and outer islands, and provide consumers with more choice and flexibility when it comes to connectivity."
AelanSat uses technology pioneered by US-based company IntelSat, which has a strong reputation for providing secure, reliable, and high-quality hardware. The company owns a fleet of
50+ orbiting satellites, combined with teleport gateways, making it the world!s most extensive and secure communications network on the planet, covering 99% of populated areas.
The AelanSat base station in Port Vila is the first in Vanuatu and was completed this year by local technical operator Prima DC. Having a local base station ensures data transmission within the network is confined to Vanuatu's borders, and protected from the global public domain. Pacific Networks recently became the first approved installer of AelanSat equipment.
"Consumers in Vanuatu are paying more attention than ever to the importance of quality of services, cyber security and choosing local business," said Interchange General Manager, Mr. Willie Karié. "AelanSat satisfies these preferences in that it is backed by trusted technology, we are operated locally by expert Ni-Vanuatu technicians, and we keep customer data safely in Vanuatu."
AelanSat will be available to WanTok customers from July 2022.