Video highlights enhanced Pacific aviation regional collaboration
September 24, 2021 11:34 pm | Posted in Business News | Share now TwitterFacebook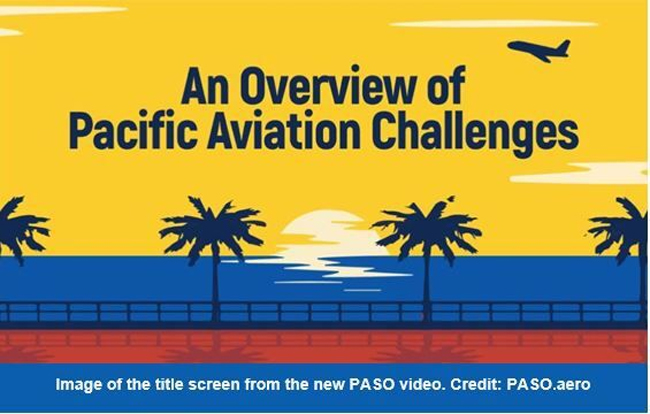 A short video released by the Pacific Aviation Safety Office (PASO) this week highlights the enhanced regional collaboration to resolve pressing Pacific aviation challenges and achieve needed safe and secure air connectivity.
The three-minute video clip was produced for the recent Regional Aviation Minister's Meeting (RAMM) by PASO with the support of the Governments of Nauru, Papua New Guinea, and Samoa, the International Civil Aviation Safety Organisation (ICAO), the Pacific Tourism Organisation (SPTO), Civil Aviation Safety Organisation of Australia (CASA), Airports Vanuatu Limited, and Air Tahiti Nui in late June.
It explores the complex challenges facing the Pacific realising a safe, secure, and economically viable aviation sector and makes the case for change to achieve a better future for Pacific people.
"This year's Regional Aviation Minister's Meeting resulted in the Port Moresby Declaration on Aviation Safety and Security. This charts the way forward to successfully work together to overcome these obstacles and achieve a more resilient aviation sector," said PASO General Manager, Mr. Andrew Valentine.
Pacific aviation is recognised as an essential driver for economic development and social wellbeing.
Regional and international air connectivity enables tourism and trade, and provides access for healthcare, education, and urgent humanitarian relief.
COVID-19 has magnified economic challenges throughout the Pacific, by closing borders and impacting on the aviation sector. The region faces significant air transport challenges with restarting post-COVID, meeting international aviation compliance obligations, harmonising regional policy and increasing advocacy, achieving sustainable funding arrangements, and responding to emerging issues.
The impact of the COVID-19 pandemic on the aviation sector and the Pacific's social and economic recovery is presented in the video as an opportunity to review and refocus how Pacific States collaborate to overcome these issues.