Vanuatu Post pays dividend to Government
February 11, 2021 3:16 am | Posted in Business News | Share now TwitterFacebook
By Jason Abel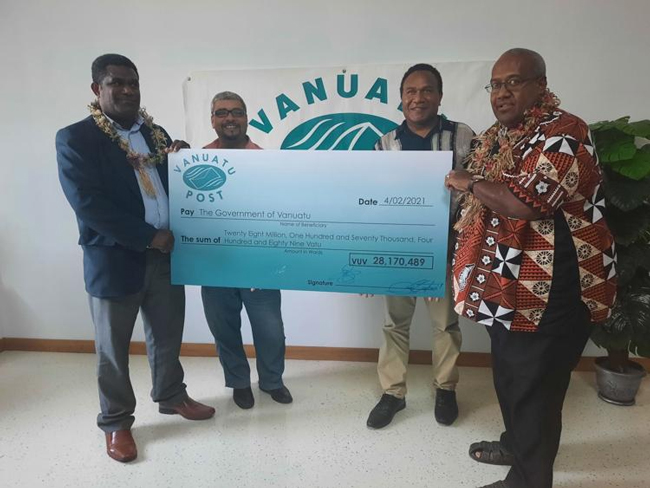 The Vanuatu Post Ltd (VPL) has paid Vt28 million (VT28,170,489) dividend to the government this month.
VPL held its Annual General Meeting (AGM) on February 4, 2021 and its two shareholders, Minister responsible for the Ministry of Infrastructure and Public Utilities (MIPU), Mr Jay Ngwele and Minister to the Ministry of Finance and Economic Management (MFEM) Johnny Koanapo were present.
During the AGM, the Board briefed the shareholders of the company's situation and in particular the impact of COVID-19 on mail.
"Mail revenue forms over 60% of the company's revenue and the irregular flights added challenge on inbound and outbound mail.
"However, there are certain key customers who made great effort to keep dispatching mail to their international customers on the flights via Fiji and these outbound mails absorbs some of the negative impact of COVID-19 on the business."
In terms of challenges, VPL confirmed that natural disaster is a concern and especially cyclones which can destroy resources and interrupt plans in several ways.
"Cyclone Pam and then Harold for example had damaged company property, stock, and resources within its network. COVID-19 is an unprecedented event with huge impacts on the bottom line of business and VPL is not exempted. Further, these has caused delays in recovering company records and other administrative matters for statutory purposes.
"VPL management is working closely with the Board and Shareholders to invest into new revenue streams in order for sustainable growth of the company and it social service obligation of this nation. Postal Services is an essential service."
The shareholders thank the Board, Management and staff for their efforts in maintaining VPL to continue show positive rate of return by the state owned enterprise.
The last dividend issued was Vt58,916,656 back in 2017.