Vanuatu Footwear Donates Shoes to Ifira Bilingual School
November 13, 2021 4:07 am | Posted in Business News | Share now TwitterFacebook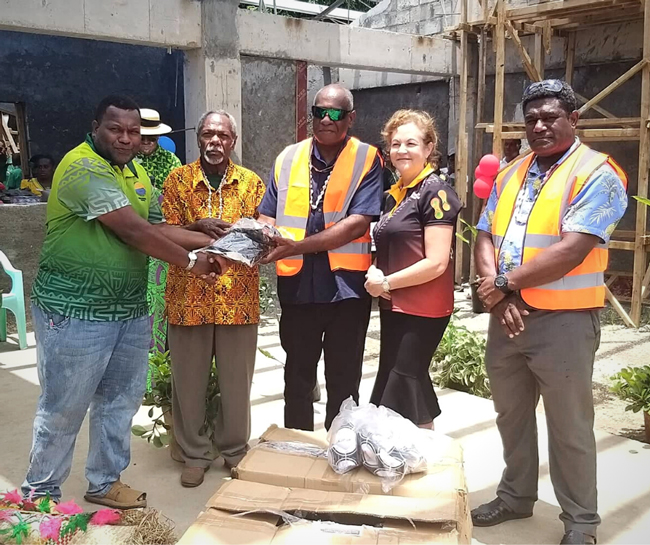 Children from the Ifira Bilingual School are benefiting from shoes donated by local shoe shop Vanuatu Footwear.
Vanuatu Footwear donated over a hundred pair of children's shoes and soccer balls to the school in an official handover done with the Deputy Prime Minister, the Honorable Ishmael Kalsakau, and his delegates to school Principal Mr. Nicholson Karu, and the people of Ifira island on Wednesday 3 November 2021.
"These donations will help boost school outdoor activities and encourage children to attend school. It makes a big difference to have a business in town that supports the well-being of our children, the future of Vanuatu," said Mr. Nicholson Karu, Principal of Ifira Bilingual School.
"Thank Vanuatu Footwear for your generous donation to our school, we really appreciate your support," he concluded.
"Children are very important and vital to Vanuatu's future. It brings comfort to know that our donations will help a child in their education journey," said Mrs. Judy Lal from Vanuatu Footwear.
"Vanuatu Footwear strives to provide quality footwear, but to also give back and make a difference," she continued.
"A very big thank you to Deputy Prime Minister, the Honorable Ishmael Kalsakau and his delegation for handing over the donations, and the people of Ifira island for having us at the Farea Narsong Tarsongsong Malarua ceremony," she concluded.
Vanuatu Footwear Shop is located right in the center of Port Vila town, next to ANZ bank building. They sell the largest range of quality shoes for babies, children, men and women in the country.