'Stanap Strong' – the new website against gender-based violence
May 13, 2022 10:33 pm | Posted in Business News | Share now TwitterFacebook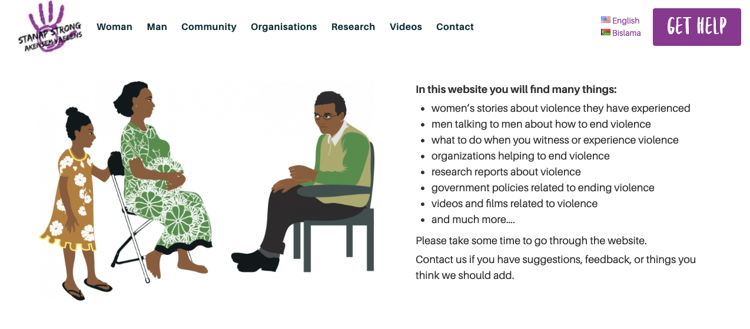 'Stanap Strong' is the name of a new website against gender-based violence, which will be launched online today.
As part of the EU-funded Spotlight Initiative Programme, and with the support of Pacific Community (SPC), Human Capacity Development International (HCDI) and Sista have been working on storian-based approaches to ending intimate partner and Gender-Based Violence (GBV).
The project focuses on the "journey to change" to show the path to change and its challenges, based on the stories of those who have embarked on that path: survivors, health and justice officers, emergency responders, community helpers, and reformed offenders.
Through the project, we aim to inspire and inform a healthy and peaceful society as a viable and much needed alternative to the violence currently faced by women and other vulnerable people, and how we can attain this by working together.
The first phase of the project consisted of in-depth interviews with organizations working to end GBV and with survivors of violence.
The second phase was designed to align with the annual 16 Days of Activism campaign and included two key components. The first was a series of 30 TikTok videos of women as part of the #BaeYuSaveMekemWanJenis campaign- local women talking about what men can do to make a change when women are facing violence. The second was a series of 18 videos and posters as part of the #RodBloJenis campaign featuring 18 male champions for gender equality calling on men to be part of the 'journey to change'.
The third, concluding project phase consists of the launch of a new website, fully supported by key stakeholders such as the Vanuatu Women's Centre and the Department of Women's Affairs, under the longstanding Vanuatu 16 Days Stanap Strong Akensem Violence brand.
The Stanap Strong website is designed to become a knowledge hub on ending violence against women and girls. It provides a home for existing and future resources, extending their outreach capacity and amplifying their power. The website:
– Catalyzes and organizes, in a user-friendly way, all the different existing resources including pamphlets, info graphics, videos, films, research reports, policies, statistics, informational guides and more;
– Provides free access for all individuals, communities, civil societies and grassroots organisations, to Violence against Women and Girls (VAWG) resources, tools and materials for campaigning, awareness raising, training, research, and collaboration;
– Ensures that valuable content developed does not get "lost" by converging content currently spread on different platforms;
– Allows all stakeholders to leverage existing resources and continuously expand them further, creating a virtuous learning circle;
– Is very recognizable, since it builds on the successful Stanap Strong brand that has been used as part of the 16 Days campaign in Vanuatu for the past 5 years;
– Continues to strengthen the relationship between key stakeholders, civil society organisations and grassroots organisations working in Vanuatu on ending intimate partner violence and violence against women and girls.
The website has been designed to respond to the different communication needs of various users.
For women facing intimate partner violence, the website has materials explaining different kinds of violence, their rights, how to get help, and sharing experiences from other women who faced similar situations.
For men involved in violence against their partner or other women, the website helps them understand better why violence is a problem and what the consequences are, what other men have to say about such violence, and what help exists for men for change and reform.
For communities working to end violence against women and girls, the website pulls together existing research reports and statistics, shows what organisations in Vanuatu are doing in this area, and what resources are available for training, and other ways to support
For researchers or organisations applying for grants, the website shares existing Vanuatu and Pacific research on IPV and VAWG, current policies and laws., and the way these connect to human rights, to the Vanuatu Sustainable Development Plan, the National Gender Equality Policy, and to other key plans and goals.
"The launch of this new website by Sista and HCDI is a great tribute to the relentless work of Vanuatu activists, women's movements and grassroots organisations, and civil society organisations and an asset for Vanuatu and the Pacific region," Acting Director of the Vanuatu Department of Women's Affairs Seman Dalesa said.
"We are thankful to the European Union for the continued support through the Spotlight Initiative."
Sista's Executive Director Yasmine Bjornum is thrilled.
"We are very excited to be launching this website at an event and on social media today," she said.
"The website – www.stanapstrong.com.vu — is designed to be a living, growing resource and we welcome any input, contributions, and feedback."
Dr. Astrid Kersten of HCDI added: "As part of the next Spotlight Initiative project, we plan to have an open stakeholder meeting to consult on the best ways to use the website, and on how to further support communities, organizations, government offices, and others on raising awareness around gender-based violence and developing useful, collaborative, and constructive processes for training and violence prevention.
"We look forward for this website to catalyze and inspire next generations of activists and human rights defenders, crossing cultural and geographical borders, and enabling everyone to contribute to ending violence against women and girls."