Government Bond Option Regulation Gazetted
April 1, 2023 8:00 am | Posted in Business News | Share now TwitterFacebook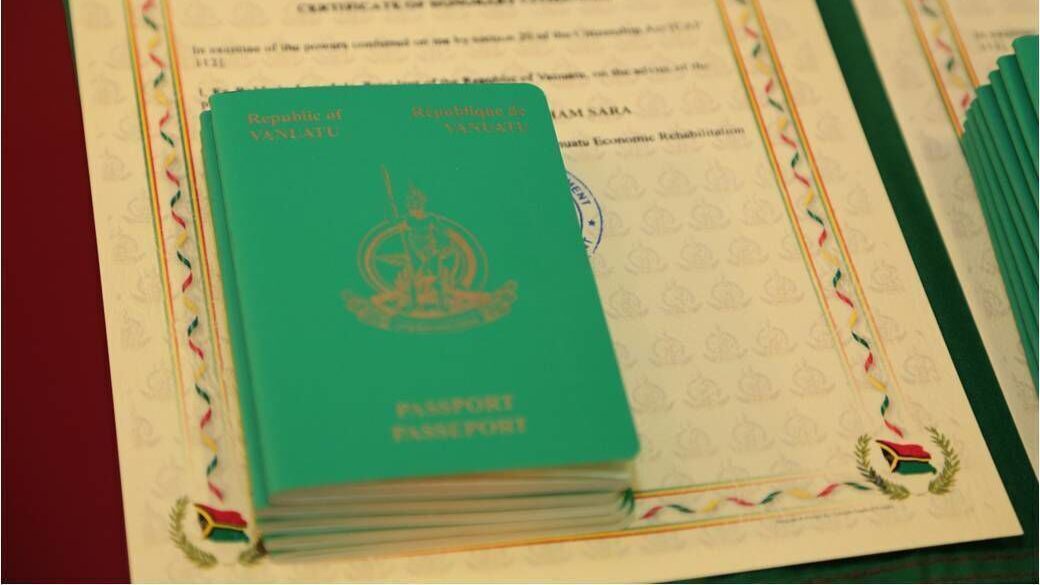 Minister of Finance and Economic Management, John Salong, has reiterated that the recently gazetted Investment – Government Bond Option Regulation Order No.44 of 2023 under the Citizenship Act [CAP 112], which allows applicants to apply for Vanuatu citizenship by virtue of a bond investment, is the best deal for Vanuatu.
He made the response when contacted by the Vanuatu Daily Post as the Opposition bloc cautioned stakeholders that the latest Investment By Government Bond Options (IGBO) Program lacks comprehensive consideration, and will hit Vanuatu on its foot by potentially causing the loss of government income and indebting the country to up to 90 million Australian dollars in just two to three years.
On 27th of March, 2023 the Vanuatu government gazetted the Investment – Government Bond Option Regulation (IGBO) Order No.44 of 2023 under the Citizenship Act [CAP 112].
The Opposition noted that this allows any qualified applicant to get a Vanuatu passport through buying government bonds, which is a loan to Vanuatu to be paid back in two to three years time.
According to the Order, the Reserve Bank of Vanuatu (RBV) will issue 500 units of government bonds for this option, ranging from AUD 150,000 to AUD 180,000, depending on the time to maturity:
1. For bonds maturing in 2 years — AUD 180,000
2. For bonds maturing in 2.5 years — AUD 170,000
3. For bonds maturing in 3 years — AUD 150,000
Apart from buying the bonds, applicants have to pay an application fee to the Citizenship Commission as follows:
4. Single applicant — AUD 20,000
5. Couple — AUD 30,000
6. Couple and one Child — 45,000 AUD
7. Couple and two Children — 60,000 AUD
The Opposition is seriously concerned that this program has not had proper analysis by the Government and whether the Council of Ministers (COM) or Government Caucus was thoroughly briefed on the implication of this program.
"It is a variation to the current government donation program, known as Development Support Programme (DSP) and Vanuatu Contribution Program (VCP), where to get their Vanuatu citizenship, clients make a donation and government earns USD 80,000 (AUD 111,000) per single application to USD 130,000 (AUD 181,000) per family of four," the Opposition stated.
"For the same application but through the new program IGBO, government gets much less — AUD 20,000 per single applicant to AUD 60,000 per family of four. Being the cheaper option, government is losing AUD 91,000 per single applicant to AUD 121,000 for a family of four in revenue.
"Since 2017, when Vanuatu launched the DSP, it has consistently earned almost 1 billion vatu in government revenue per month or some 12 billion per year, constituting one-third of the national budget.
"The Opposition is asking why would the Government jeopardize a revenue Program that's already earning well and will now turn income into debt?
"Compared to DSP, it's obvious most clients would prefer to buy bonds to get a passport and get their money back in two to three years time, rather than make a non-refundable donation to the Government."
The Opposition is concerned that all ni-Vanuatu who are agents will be affected significantly by this program and is suggesting that instead of creating another new Program to cannibalize DSP, why not focus on it and make it better, perhaps by reducing the donation to sell more cases until EU revokes its current visa free suspension.
"Bonds are in reality a loan to the Vanuatu Government and we need to pay this back when it's due. 500 bonds will equate to approximately AUD 90 million loan which is putting the country at risk if we cannot honor it in two to three years to refund," the Opposition stated.
"There are other significant associated risks to the Government, including foreign exchange fluctuations and the government will be expected to absorb these risks. Were the Reserve Bank of Vanuatu (RBV) and the Ministry of Finance properly consulted given that under the regulation they will be "responsible to determine the redemption procedures for when the groups of bonds mature?
"The Reserve Bank must make its position clear on this matter. Would the Government have the capacity to repay the bonds when they mature? If we have more cyclones or pandemic within two years and cannot reimburse investors, Vanuatu may have to declare bankruptcy or possibly consider other serious revenue options such as implement income tax to help repay this.
"IGBO is a loan system and will increase our debt. It is the cheapest bond with the shortest maturity time worldwide and is very dangerous for the country," the Opposition added. "On the other hand, DSP is better because government earns more and we don't have to refund donations."
The Opposition is also of the opinion that the provision for only "one" Master Agent is suspicious and unfair, considering DSP is open to many agents who are citizens and are by law subject to VAT compliance. And there is no criteria of appointing a Master Agent.
One thing is certain and that it this program will give the Master Agent a competitive edge, and allow him to use this platform to take away business from the 100 or so locally based DSP agents, and with this the Opposition is concerned.
"A government bond represents debt that is issued by a government and sold to investors to support government spending, operation or development," the Opposition stated. "Some government bonds may pay periodic interest payments, however our bonds are at no interest. Bonds cannot escape the endorsement of Parliament whether they be revenue or expenditure component."
In response, Finance Minister Salong said that it is the best deal.
"Vanuatu does not have a capital market," Minister Salong said.
"These people are giving the best possible deal, they take the risks and deal with Australian dollars. We even do not have to pay interest.
"Vanuatu has a debt policy, and the Government will live by its debt policy. The debt policy does not allow us to borrow what we do not need.
"This has already been appropriated — the Budget for the 2023 financial year as announced in the recent First Extraordinary Session of Parliament is VT68,330.7 billion and a VT3.5 billion deficit, so all we need is to finance this deficit, not AUD 90 million."